Over the years, I've had the good fortune to play in a number of bands with a number of different musicians. And although none that I know have achieved great commercial success, I still feel that I have been priviledged to have connected with some great musicians and human beings.
Like many other people, I started playing electric music (rock) in my late teens. Before that, I had played music in all kinds of school bands, from elementary school thru high school, I started forming my own musical groups of one sort or another in the late 70's. As time has progressed I've come to see that being in or part of a Band is a necessary social, emotional, and even spiritual part of my life.
So on this page, I just sort of keep track of the bands I've been in. They are shown starting with the most current band(s) and continuing back, in rough reverse chronological order, to the first real "band" I had a part in, Lively Live.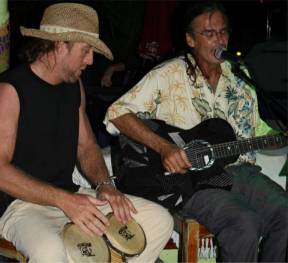 I met Andy Crawford when I sailed into Bocas Del Toro for the first time in December of 2008. As was my habit at that point, upon pulling into a new port, I got on the VHF and asked if there were any musicians around that might want to jam. Some folks told me that I had to hook up with this guy named Andy ... that he would be "around" and I should run into him. The first night in town I went to the "cantina", the restaurant at the marina, for dinner, and I saw this long haired, sailor chatting at a table, and for some reason I just knew it was him, so I went over to introduce myself.
We chatted about 10 minutes, and I suggested we get together and jam. Andy said to me "Do you want to do a gig tomorrow night?". LOL, I had only been in town about 8 hours, but what the heck, I said "sure". The next night we did our first gig at the restaurant then known as the Plank, the following night. And we played well over 50 gigs in the first year we were together. And have kept playing now for (as of this writing) the five years I've been in Bocas Del Toro.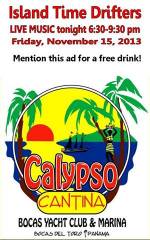 It's hard to describe. Andy and I just "click". He plays the bongos and hand drums like no-one I've ever heard before. We were both influenced by the Grateful Dead, but it's more than that, we are also sailing buddies and very good friends. Somehow my guitar and singing and his bongos combine to create a magic that is more than the two of us put together, and so many people have commented on it, taken part in it, and enjoyed it along with us that it's ... well ... it's fun. About the most fun and regular playing I've ever gotten to do.
Over the years we have had the opportunity to play with so many wonderful people, each of them has been an "honarary" Drifter, as we have grown and morphed with the people that we meet. I couldn't even mention them all, the times we've played, the gigs we've done with Barry, Paul, Aldo, Vincent, Nico, Ken, Beto, Dennis, Shannon Scully, Kara on violin, John Doriat, Dave, Larry Byers, and one of everybody's favorites on the sax, Peter Northcott. The list goes on, but each one of these players has left an indelible mark on us, and our music, over the years.
Also, the place we get to play! Bocas Del Toro is already a vacation destination and we get to play at the nicest places here, you name it, the Calypso Cantina, Refugios, Cosmic Crab, Lemon Grass, Bluff, Secretos, Rana Azul, Bocas Paradis, and, seriously, on and on and on.
Here's some photo albums of the Island Time Drifters

2012
2011
2010
2009

---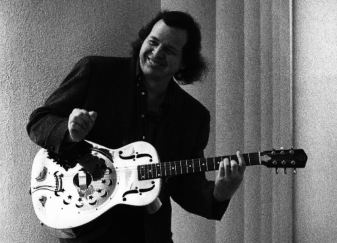 I started working with C.J. Hutchins after I heard him play when he sat in with us at a Forgotten Space gig that Sandy Troy had set up. We talked about getting together, and over the next year we started working out on some of his originals and a number of cover tunes. We played a number of gigs as a two piece at LeStats, and the Del Dios Coffee House before we hooked up with Dave Martin, who, as luck would have it, was also introduced to us by Sandy.
We played as a duet, and as a power trio, behind CJ's great vocals and incredible guitar work. We played at the Casa De Oro Mining Company out in Lemon Grove and at various venues in the North Park area. Working with a three piece with CJ was great, there's lots of room to maneuver and there was never any problem coming up with a full sound.
---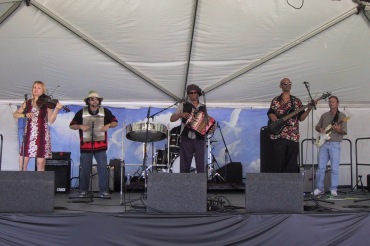 I had recorded Ya Keep A Knockin for Theo in 2004, and I got a chance to play guitar on one of the songs, but I really got to work with the band a lot more during 2005, when I did stints on lead and rythmn guitar during a series of summer gigs, including a long distance one in Fallon, Nevada, the Long Beach Zydeco Festival, the P.B. Block Party, and San Diego's famous Gator on the Bay.
The relationship continued as I recorded and produced but also performed most of the guitar parts on Theo's newest CD, Got You On My Mind. Then Victor had to go a way for a month or so, so I filled all the regular gigs on bass, including a fun one out at the DeAnza Nudist Resort, and cookin' gigs at the Coyote Bar and a number of private parties. We did a great Benefit for Katrina at Tio Leo's in Bay Park, raising $$$ and gathering a bunch of food and stuff that Theo took back to Lafyette on one of his aid missions.
All in all it made for a very busy and fun summer. I was definitely part of the family :-) and I still occasionally get to sit in on my visits back to San Diego Be sure to Check Theo's Calendar to find where he's playing. I hope you drop by! Maybe you'll get a chance to see me too, sitting in with them.
---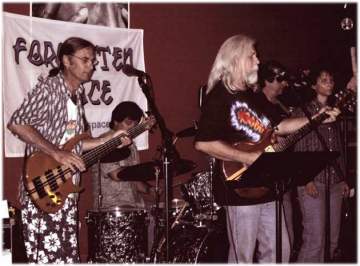 Forgotten Space was formed around a core including myself on vocals, bass and acoustic guitar, Don Musial on vocals, lead and rythmn guitar, and Virginia West on vocals. In addition to this strong vocal core, the band also featured other players at various times, depending on the circumstances, usually including Pat Kingsland and/or Jim Sallis on drums, and sometimes featuring Ted Stern on violin and guitar, Julius Kuczma on keyboards, and/or Mark Johnston on mandolin.
Forgotten Space played a variety of music from Originals to Rock and Roll and Blues standards, in a variety of formats from a 3 piece acoustic vocal group to a full 7 piece electric rock and roll band with 2 drummers! We played at various places around town including Humphries on the Bay, Java Joes Pub, Tio Leos, and the Hot Monkey Love Cafe among others.
I recorded two CDs with Forgotten Space, the first, One Dream Avenue was recorded as a demo of 5 dead cover songs to get gigs and to build the initial website for the band. The second CD is an all original CD called Remember Tomorrow.
In February 2011, Don and Ginny flew down to visit me in Bocas Del Toro, Panama, and we did a series of gigs around town and on other islands including the Cantina, Refugio's, and Stone Soup Festival out at De La Luna.
If you'd like to see some more pics, etc, we still have a webpage www.forgottenspace.com.
---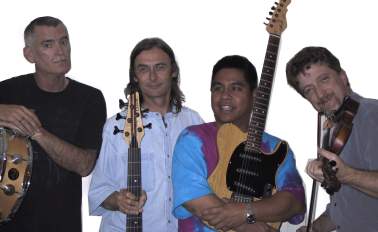 Dead Enuf formed after Mars Hotel had kinda fallen apart. The band featured myself on Bass, Peter Padua on guitar, Ted Stern on guitar, pedal steel guitar, and violin, and Tom Welch on drums.
DeadEnuf was, as you can guess, another Grateful Dead cover band. We played at Hennessey's and Victor's in P.B. and the Road House up in Encinitas.
I recorded one demo CD of Dead Enuf. in order put together a promo package and get gigs.
p.s. I played some other gigs worth noting with Peter Padua. We played up in the Bay Area with The Webs at the annual Sonoma Crusher's Grateful Dead Day in 2000, and with Peter and Tom at the y2k Marina Del Rey Christmas Boat parade, both of which were fun gigs.
---
NOcean - 2000 and 2001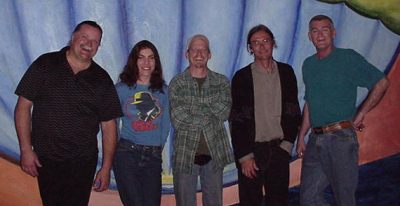 NOcean was already a working band when I joined them. Featuring Sam Mclarty on rythmn guitar, keys, and lead vocals, Becki Hammett on vocals and incidental percussion, Mike Head on lead guitar, Tom Welch on drums, and myself on bass. Tom got me the gig as Mars Hotel had run into some inter-personal conflicts.
While I was with them, NOcean played pop-covers from the 60's thru 90's and some pretty darned good originals. Most of the gigs I played at were at Hennessey's in P.B., but the band played other venues before and after my membership. Mostly formed around Sam and Mike's friendship, I believe that NOcean is continuing to work around town with different musicians.
---
Kevin Irlen on guitar and lead vocals founded Rita's Simple World with Craig Johnson on lead guitar, Brian Riggs on bass, Jim Stephens on drums, and I played harmonica and sang backups.
Rita's Simple World was a "different" kind of band. Kevin's idea was to cover individual Artists, one at a kind, kindof a serial tribute band. It it's first incarnation, of which I was a part, the band concentrated on covering the songs of Bob Dylan. Later incarnations that I didn't play in included a Bruce Springsteen phase, and most recently a Standard Blues stage.
RSW played at a number of parties including, perhaps most significantly for me, Kevin and Anita's housewarming party, where we recorded the Down To The Roots CD.
---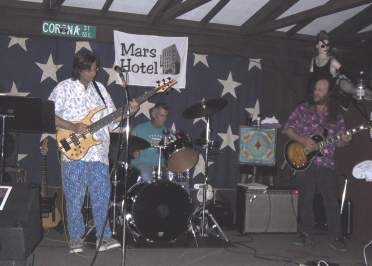 I joined Mars Hotel after answering an add in the Reader. Stu Kallen founded this Grateful Dead cover band featuring Stu on lead vocals and rythmn guitar, Peter Padua on lead guitar, Ted Stern on lead guitar, pedal steel, and violin, and Tom Welch on drums.
Mars Hotel played quite a few gigs here in San Diego. We played nearly every Sunday night in 1998 at Pounders in Escondido, and other bars in town, including Victor's. We made an effort to get out to the local street fairs, playing at the Adams Avenue Street Fair, and the North Park Street Fair, and a real fun gig at Grossmont College/
I recorded two CDs of Mars Hotel music. The first was a particularly good live gig at Pounders in Escondido. The second CD was off-the-board from the Grossmont College Ides of March spring festival.
---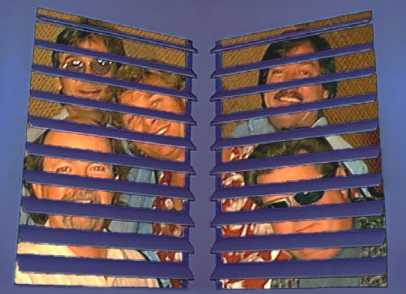 In the middle to late 90's, I continued working with Paul Via Cava on Guitar, Andy Via Cava on Pedal Steel, Pat Kingsland and "Conga" Dave Townsend on percussion, adding Mark Johnston on fiddle and sax, in a band called the Blue Louvre Consortium. This group emphasized popular jazz, doing songs by Cole Porter and other classic jazz composers, influenced heavily by the power pop format that we had evolved in the other bands, a really interesting mix, if I do say so myself :-)
I recorded one CD with the Blue Louvre Consortium, which I called A Night At the Blue Louvre.
---
Cocktail Flu, with Steve Schulman on Keyboards, Tim McFarland on Guitar, Pat Kingsland on drums, "Conga" Dave Townsend on percussion, and myself on bass was a 60 thru 80's top-40 cover band. We played a series of gigs in the early 90's, mostly at the Office on 31st and University here in San Diego.
I put together a CD posthumously after Steve Schulman's untimely death in 2000, which, in memory of Steve, I called Thank You San Diego!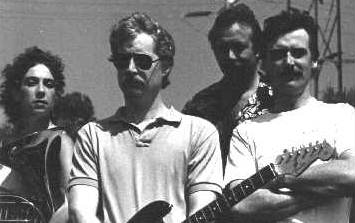 The Fluids was a band I formed with Mike Varneyon Lead/Rythmn guitar, Jennifer Ball on lead vocals and French Horn!, Steve Schulman on Keyboards, and a variety of different drummers, including Mike Perrone. We were more or less a straight pop cover band with a little bit of a punk/dead influence. We played around San Diego couple of years in the late 80's at places like the Pelican Pub, Winstons, and the old Bachannal.
---
Sweardha Buddha - 1982 to 1986
Sweardha Buddha started with me on Bass, Paul Via Cava on Guitar, and Andy Via Cava on drums, somewhere around 1982, as a Power-Pop trio, playing the likes of Elvis Costello, Tom Petty, and so on. Later, around 1985, with the addition of Pat Kingsland on guitar (or was drums?) and Keith Swenson on keyboards, we achieved a bigger, more powerful sound. Sweardha Buddha played some great parties, including Andy's wedding, and that rompin' Halloween Party at La Jolla Village Square. I havent posted any Sweardha Buddha recordings on the net, although I have a few old archives.
---
Urth - 1979
Urth was only together for about 6 weeks. It was a southern power-rock band, ala ZZ Top. It featured Jim Oakley on guitar, and I can't remember the drummers name. Urth was the only time I worked with a band that practiced from 9-5 every day ... within a week we had a kickass set going, and after two weeks played parties to a hundred or more people at the Mad House, in Huntington Beach. I met Jim when he was sleeping in his car in HB. He said he was the cousin of Berry Oakly, the bass player for the Allman Brothers.
Jim said he was gonna get us a gig at the L.A. Forum to open for a super-band of the 80's called Asia, and would have done it, had I not had a crisis of concience and decided instead to take up an offer to start my career in Software Engineering and moved to San Diego. The best I could do was hope that everything went well for Jim (whom I know had some ups and downs after our time together).
---