Ya Keep A Knockin - Theo and the Zydeco Patrol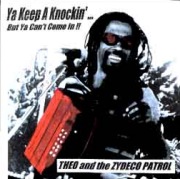 In 2004, I got the call to record an album for Theo and the Zydeco Patrol. My good buddy PK was playing drums for them at the time and Theo was looking for a good place to record his yearly CD.
We worked hard and banged the songs out in two extended live sessions with a few backup calls. There's a live energy as a result and a lot of the songs are really rockin. The CD features, of course, Theo Bellow on accordian and vocals, and features Sandra Stram on violin, Curtis Voltaire on guitar, Victor Franklin on bass, Pat Kingsland on drums and Johnny Coloccia on washboard. For a guest appearance on this cd, yours truly got to play a little guitar on Big Bamboo!
This page contains only a few of the actual songs. Be sure to visit Theo's Website where you can find out about his current schedule, listen to more of his music, and purchase this CD.
1. Uncle Bud
2. Bad Bad Woman
3. Eat It
4. Big Bamboo
5. Jais Pasais
6. Ya Keep a Knockin
7. Paper In My Shoe
8. I Know This Place