Got You On My Mind - Theo and the Zydeco Patrol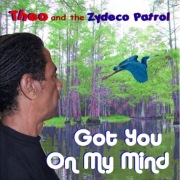 I worked with Theo Bellow the previous year, when we recorded his album Ya Keep A Knockin.
Theo wanted to record a new album with more of a second line and bluesy feel. He was in-between guitar players at the time and so yours truly got to fill all but one of the guitar tracks. Towards the end of the sessions, I hooked Theo up with my buddy C.J. Hutchins who did some fantastic work on You Are the One.
In addition to Theo on accordian and vocals, rounding out the band is Sandra Stram on violin, Tim "Boneman" Cook on trombone, Victor Franklin on bass, Pat Kingsland on drums and Johnny Coloccia on washboard, and a guest appearance from Ginny West, who joined us for backing vocals on the title track and on Audobon Zoo.
This page contains only a few of the actual songs. Be sure to visit Theo's Website where you can find out about his current schedule, listen to more of his music, and purchase this CD.