Thank You San Diego !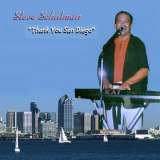 A Tribute to Steve Schulman
This CD commemorates a good friend, entertainer and musician Steve Schulman. Most of these songs were recorded back in the 80's with the Fluids. I produced this CD after Steve and Jan's tragic death in January 2000.
Steve was a funny, funny guy, and had a fervent desire to be an entertainer. He was always ready to get a group together, to play gigs, and most importantly :-) to party! Steve's passing came as a shock to myself and our mutual friends. Though the production quality may not be as high as Steve would have liked, I think he would have liked having a CD like this.