Sailing
I have recently taken up the hobby of sailing. I did a little sailing back in high school on a friend-of-a-frends 10 meter race boat, and so I was travelling to Loreto, it was fun the first time to take a small Catamaran out in the waters of the Sea of Cortez. After that I was hooked, and also got to take a small Cat out on a vacation in Jamaica.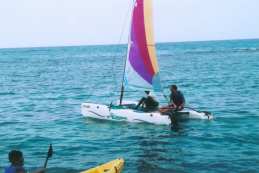 I also started going down to Mission Bay, here in San Diego, and renting the small catamarans at the Hilton hotel. At the time I think they were about $30/hr, and we went out many times for 2 hour sprints around Fiesta Island over several summers, loving the wind in my hair and the thrill of moving along under sail.

Then in 2005, in August, I thought I would rent a little sailboat, sail it from Mission Bay down to San Diego Bay and spend the night in the bayand then sail back the next day. Well, it wasn't that easy! The main rental place in town, Seaforth Boat Rentals, would not let me take a boat out as I wasn't qualified. Arghh ... After a little fibbing on my part, they did let me take out a Capri 22, which I sailed around the bay, and it was a lot of fun, although a little scary, since I knew nothing about heeling and were afraid the boat would tip over!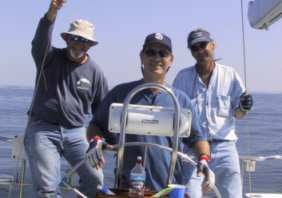 Then one day, about the same time, I came across this neat web page that had links to a bunch of webpages that people had setup to describe their boats and journeys. I really recommend you visit it if you have not seen it. Anyways, as I was reading these fantastic stories of adventures that people were having, it dawned on me that not only could I learn to sail, but that one could travel to many interesting places and experience a whole different way of living with sailing.
The net result is that I got totally into the concept of sailing. I kept renting the little Capri 22 and going out with friends, and learning by doing, but also signed up for the some courses that were being offered by Seaforth. I completed the ASA 101 (Basic Keelboat) class, and the combined 103 (Coastal Cruising and 104 (Bareboat Chartering) classes as soon as I could. As a result I was certified (if not qualified lol) to skipper sailing vessels upto 50' in moderate coastal conditions. Yee hah!
Meanwhile, I'm reading all the sailing literature I can get my hands on, the classics, like Slocum and Chichester, Jack London, the tale of the Lucette, and so on, and about here in the story, I decided to buy a boat.
So what started out as a hobby, became a passion when, in 2006, I bought Mandala and sailed her all around California, and from San Diego to San Fransisco and back. And what was a passion became a lifestyle in 2007 when I sold Mandala and purchased Rhapsody, my current boat. As I'm writing this addendum paragraph, I'm currently sailing Rhapsody from San Diego thru the Panama Canal to New Orleans on a two year adventure. You can see the most recent webpages for the trip by clicking on link to Rhapsody's Logbook!
You can also see a log of my earliest sailing adventures, where it all started, by clicking on the link below.