Summary of our time in Mexico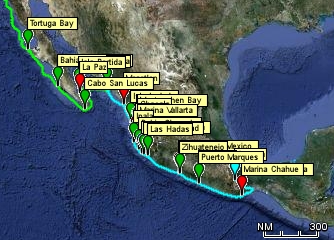 From Oaxaca, we returned via bus to Marina Chahue, where we began preparations to leave Mexico and continue south on our Adventure to Central America. When we first planned out the voyage, we broke it into 6 distinct parts, and now, as we get ready to move on to El Salvador, we have completed two of those parts, or about 1/3 of the entire journey. Since this represents a natural break in the story, I thought I would take this opportunity to kind of summarize our trip so far, and the first thing I would like to reflect upon is the wonderful crew that we have had join us.
First amongst that crew was Steve Whittlesy, who we will always remember for his steadfast courage and sailing skills, as well as his fluid command of Spanish and his easygoing way of dealing with the Mexican locals. With Steve we did our longest uninterrupted pure sailing, over 350 miles from San Diego to Tortuga Bay, Baja, in three days and nights that were sometimes grueling, but always interesting, as we averaged 6.8 knots and never once turned the motor on! And the way he kept his optimism alive and helped us to enjoy our time, even with mechanical problems, means that he will always remain deeply embedded in our hearts, and of course, will always be welcome on RHAPSODY, wherever she might sail.
Then Pat Kingsland joined us in Cabo San Lucas for the trip upto La Paz, over to Isla Espiritu Santos, crossed the Sea of Cortez with us when we encountered our first rough weather, was with us as we became some of the few cruisers to ever have visited Altata, and helped us enjoy the fine facilities at the El Cid marina in Mazatlan. And the fact that he's one of my oldest and most trusted friends and musical partners made it all the better as we got to spend lots of quality time together. We'll never forget his first night watch and his sense of wonderment and general positivism thru good times and bad. So, Kudos to you Pat, and we look forward to more sailing adventures with you.