2007 Baja Ha Ha Tortuga Bay Beach Party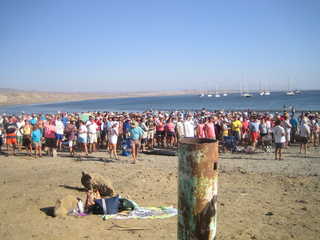 Friday was the big beach party. We spent the morning in town checking out the internet cafe, exploring, and doing a little grocery shopping, and then at 2:00 or so, caught a panga ride to the beach for the party. We made a shrimp etouffee for the potluck, and we all partook in the food and plentiful drink abounding. Everyone had a great time, though there's not much specific to report. We ran into Gary and Dorothy from WANDRIN STAR, Tom and Heidi from INCAHOOTS, and Dave and Tanya and the rest of the MERRY ROWES. We made new friends Lewis and Laura from CIRQUE, who taught me how to "steal" balls while juggling. Steve and I got T-Shirts, but mostly we drank a bunch!
There was a moment of concern when a guy got dehydrated and passed out, but many people attended to him and he was transported to the clinic where the report was "the drugs are good!". Finally, after the big "group photo", we caught a panga back to Rhapsody at about 5:30 pm to get a good nights rest before Saturday's 7:00 am start of Leg 2 to Bahia Santa Maria.