The House - Painting, Kitchen, and Window Coverings
Since Iíd been a house painter, and I had to paint three houses, I went ahead and bought an airless paint sprayer. Due to time constraints, I decided to only do the downstairs of the house, the minimum to make it livable: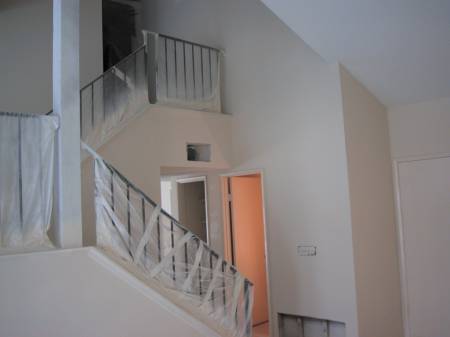 After masking, because it was all previously painted with oil-based enamel, I had to put a primer coat on everything, so I sprayed the entire downstairs, including ceilings with Kilz primer. Then after that had dried, I sprayed all of the walls a nice off white (Arizona White) flat latex and the ceilings pure white.† The kitchen, bathrooms, doors, and closet interiors were all hand or spray painted with Arizona white enamel: I also hand painted all of the brown trip (including the beam on the ceiling) and cleaned and/or replaced all fo the fixtures.
Since I was on a roll, I decided to do the kitchen at the same time.† The major pain turned out to be replacing the sink. It took me all day to cut the tiles around the sink and lift it out ("lift" being a gentle word, as I was really pounding on it with a hammer to break the cement under-layer).
I replaced the sink, faucet, garbage disposal, and all of the plumbing under the sink.†I then also replaced the dishwasher and stove, installed an over-the-stove microwave oven, and bought a huge new refrigerator. All of the appliances were General Electric, white, and very pretty and new!†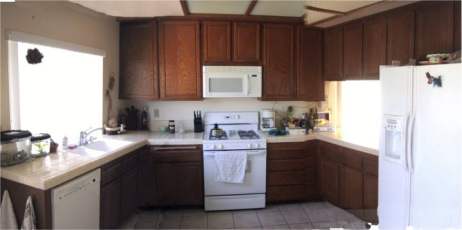 After getting the painting and kitchen done I realized that I didnít like any of the old window coverings and decided to replace them all with Vertical and Horizontal blinds.†So sticking with the neutral color scheme, I found a place that would sell me the raw materials to build my own blinds (it would have taken three weeks to have someone else cut them to size, and I only had one weekend left before I had to go back to work).† So I cut all the vanes and runners, assembled all the blinds, and hung them all in one weekend.†
I barely had the painting and kitchen done in time for a Thanksgiving party.