Chris's Vacation Box
Zebrawood with Maple, Wenge, Mahogany, and Padouk inlay
I made this box for my good buddy Chris for his birthday this year. I tried to evoke a tropical sense reminiscent of my trip to Jamaica last year. Chris travels a bit, and so I thought he could use this box to keep scrap photos of the various places he's visited.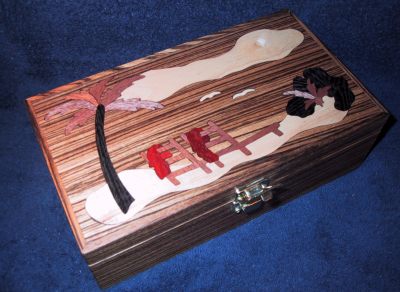 I had come across this plank of ½" Zebra wood, and it was really beautiful. The four sides are mitred together and the top and bottom drop into ½" cutouts in the sides. The top is inlayed with four different kinds of wood. The light wood used for the sand, sky, and birds is Maple. The leaves and beach chairs are made from Mahogany. The tree trunk and rocks are made from another African hardwood called Wenge. And finally, the towels are made from a bright orange wood called Padouk.
The inlays are 1/8" thick and were individually cut on the scroll saw and sanded to fit together. The box is then carefully routed out a little less than 1/8" deep using a dremel hand tool. The pieces are test fitted and the box/shapes are modified until everything goes together. Then the pieces are set with an epoxy glue and the slight extra rise is sanded down.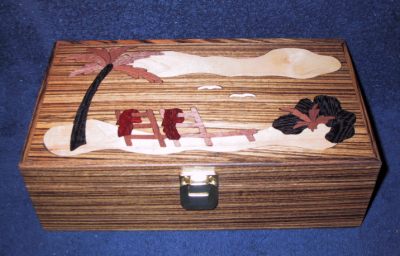 The box was made whole, and the last step, after most rough sanding, is to cut the top off and attach the hardware. It is then finish sanded with 600 grit paper and finally, a light coat of oil is applied and buffed. After it dried, I put in a piece of red velvet lining to spice it up.