Hedonism - Negril, Jamaica, May 2003 - Page 1
Chris and Liz's Jamaican Wedding!
In May 2003, I flew down to Jamaica for the wedding of my good friends Chris and Liz. I spent a week at Hedo II and took tons of pictures. So many in fact that I put together a slide show called "Chris and Liz's Jamaican Wedding". You can click here or on the picture below to see the RealMedia slide show *.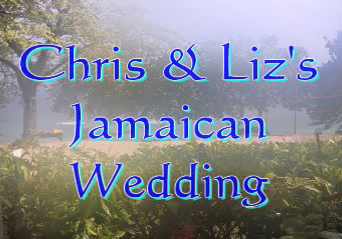 On the next few pages, you'll find photos that were part of the slide show and a few that were not, in roughly the same order as the slideshow. For instance, not in the slideshow, but shown below, is a photo of me jamming with the acoustic musicians who wait at the front of the hotel for the guests to arrive. We traded tunes and they took a genuine interest in simple classics like Friend of the Devil and Ripple.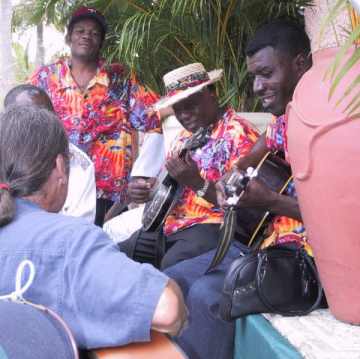 I always have fun when I go to Hedonism. The food is good, the staff wonderful, and the time just flies by. Always something to see at Hedo II (smile smile smile) !! Below are the outdoor pool tables looking towards the water slide.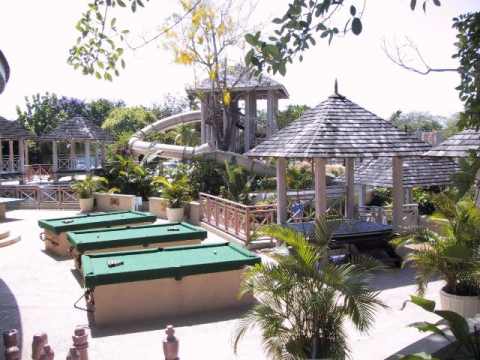 Most of the picturers on these pages are of good friends, new and old. Here's Chris and I, together again, partying as he's about to GET MARRIED! He's asked me to be the best man, tho as I said, it'd be hard to be the best man in the room with Chris around :-) I agreed, with feigned reluctance, to do it.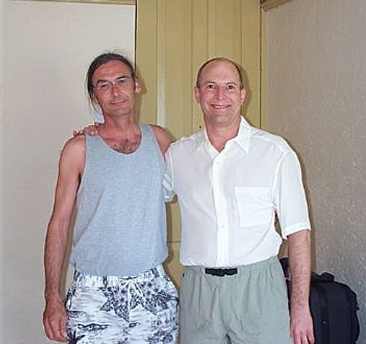 Their wedding was beautiful. It took place outside on the beach on the Prude side of the club. Elizabeth's parents Bob and Jackie, were staying next door at the Grand Lido, her daughter, Alicia was staying somewhere in town with her boyfriend Rick, so they were at the wedding on the beach as were Kelly and Larry, Liz's oldest friends, a bunch of hedo Friends (Brent, Leisa, Gary, Lora, Mike, Jill, Rasta Bill, et al).