Great Memories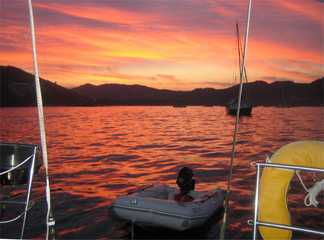 Of course, along the way we have gotten to see a few interesting things and meet some really nice people.
It's hard to explain even the simple thrill of watching the sun rise after you've been up on a difficult night watch. Maybe there was no moon out and it was kind of spooky. And then the sky begins to lighten up and you realized that you've survived another night at sea as that reassuring glow appears in the west. Much more difficult to describe is the sense of wonder and contentment that comes from being the only, or one of a very few boats, at anchor in a beautiful well protected bay. As RHAPSODY softly rocks to and fro and one is surrounded by nature, birds singing, maybe some dolphins swim by the boat, and words are insufficient to describe the feelings that rise up from within. We have often commented on how natural the cruising lifestyle is for us, as if all of the commuting to jobs on busy freeways, dealing with computers in cubicles and fast-food restaurants on a daily basis, all these trappings of civilization were just prerequisites to be achieved before we could start this new way of being.
And the people we've met!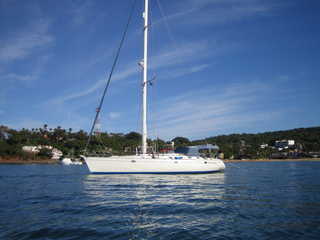 It'd be impossible to recount every truly interesting and unique person we've met on the journey thus far. But it seems like daily we meet several new people who either have much in common with us, being self-motivated cruising types themselves, or conversely, we meet new people with completely different and interesting viewpoints. From cruisers like Gary and Dorothy on WANDRIN STAR or Dave and his family on MERRY ROWES to Louis and Laura on Cirque and Douglas and Mary on FANDANGO, the dozens of cruisers we've met have been some of most positive and optimistic people you'll ever run into. Not too many whiners in this crowd!
And among the many, many truly wonderful people we've gotten to meet in Mexico, from happy Gustavo in Altata and Lopus in Mazatlan, to Philo, Dudley, Nick, Hock, and virtually everyone in La Cruz, to Pablo and the Zorillos in Chacala, Nathanial in Zihuat, and Enrique in Chahue, to name just a very few, our lives have been blessed by the range of people that we've gotten to meet and get to know on the voyage so far.
And the places, wildlife, and things we've seen so far!
Jacques Cousteau had visited Isla Isabella, and we found out why. Acapulco's cliff divers are famous the whole world over and the city shines like a million diamonds at night. The ruins of Monte Alban are among mankind's greatest treasures and the nights at the Zocalo of Oaxaca remain with us in our hearts. We got to experience the 15th of November celebration of the Mexican Revolution in La Paz. We got to experience the Christmas Potluck and gift giving at Philo's in La Cruz. We got to see dozens of whales, hundreds of dolphins and turtles, thousands of birds, and millions of stars.
Wow. It's been a great trip so far!