Getting to Oaxaca City and First Sights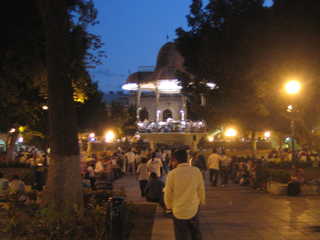 After spending a week or so in Huatulco, at Marina Chahue, and exploring the nearby towns of La Crucecita and Santa Cruz, we decided to take a bus inland to Oaxaca City. We had decided to wait awhile before going there, as we arrived in Huatulco a few days before Easter Week (called "Semana Santa" in Spanish) and we wanted to avoid the spring break crowds. We went to the bus station on Palm Sunday only to find out that the buses for the next day, Monday, were all filled up, so we booked a pair of premier class bus seats for Tuesday, very reasonable at $24 per person, one way, to Oaxaca.
Its about 100 miles, as the crow flies, from Chahue to Oaxaca City, the capital of the state of Oaxaca. We figured that even a slow bus would take only 4-5 hours to get there. What we didn't realize is that instead of taking the direct route, Highway 175, thru the mountains, the "1st class" bus we had booked would take us the long way around, on Highway 200 all the way east to Salina Cruz, then NW thru the mountains on Highway 190. We left La Crucecitas at 9:20 a.m. and didn't arrive in Oaxaca City until almost 6:30 pm, 10 hours later, about 175 mi. We were joined on our ride by two fellow Canadian cruisers, Ian and Ness, from the boat EILEEN NONEN.
The bus was nice, roomy, & air conditioned, with movies all the way, and the views were pleasant, if not spectacular, particularly as we made our way along the coast to Salina Cruz. As we rose thru the mountains, we could see great vistas and valleys in the rugged ranges of the Sierra Madre del Sur. The landscape, surprisingly, was not jungle-lush as we expected, but rather dry and oddly reminiscent of Southern California. All along the way we could see oak and acacia trees, "wintering over" thru the dry season here, which lasts from November until May or so. Interspersed with all of the growth, we saw many, many small farms of Agave, the cactus used to make Mezcal, on the hillsides, in village front yards, along the roadside, and so on.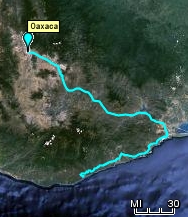 When we got to the 9,000 ft crest of the mountain range, we were welcomed by a variety of pine trees, "Pinos" in Spanish, which once again reminded us of home. We stopped several times, once in refinery town Salina Cruz, once in Tehuantepec, and then one final time at a quaint little restaurant/roadhouse just on the other side of the mountains near a reservoir, where we had a late lunch.
As we made our way down into the Valleys of Oaxaca, we strained our eyes to try and make out the ruins or other landmarks, but not having a good map, and not knowing exactly where we were, we were unable to place ourselves until we finally arrived at the outskirts of the city itself and found ourselves in busy rush hour traffic. We had not made reservations at any hotels, and so we were anxious once we arrived to find some lodgings for the night. We went to the Hotel Francia, which we had read about in a Moon Travel guide, and which was located just two blocks from the Zocalo downtown. The front desk clerk at the colonial era Francia told us that they had a room, but only for two nights. We were planning on staying 5 nights, but took the room anyway, with the idea that we could find another hotel later. In the meantime, we checked in, and immediately went for a walk out to the Zocalo.
The Zocalo was one of the, if not the, nicest one we have seen in Mexico yet. In fact, as it would be revealed to us, Oaxaca City is considered one of the finest destinations in Mexico. At first all we could do was take in the beautiful (cerca 1733) Cathedral, see all the children playing with their Aeroglobos (6' long balloons), watch the lovers walk hand in hand, and the multigenerational families who came here nightly and on weekends to enjoy the festive atmosphere and free music that was everywhere to be found.
We went out to a nice dinner on Tuesday night at Casa de la Abuela, where I had a very nice Mole (chicken in a spicy chocolate sauce). We stayed two nights in the Hotel Francia, and then moved over to the swank Marques del Valle, a very nice and somewhat exclusive 1940s era hotel right on the Zocalo itself, next to the Cathedral, for our final three nights.