My First Trip to Yosemite and Surrounding Areas
May 25 thru June 2, 2004
After the fun had in Sequoia National Park, I decided to take my new camper, the 1995 Roadtrek 190P, on a trip to Yosemite National Park and the surrounding areas. Because I would be travelling over the busy Memorial Day weekend, I made every effort to isolate myself from the crowds that I knew I would encounter. So I decided to try to get to the Park before the crowds (on Wednesday and Thursday) then hide out in the Stanislaus Forest during the busiest times (Fri and Sat) and to cut over to the eastern Sierras as the crowds were leaving (Sun, Mon, Tues). Everything worked out marvelously and, considering the draw to Yosemite and the weekend, I would say I lucked out at every step of the way.
I left San Diego on Tuesday night, at about 8:00 p.m. and drove to the Phillip S. Raine Rest Area just south of Tulare, arriving about 1:00 a.m. I've found that the best way to head up interstate 5 from San Diego is to leave at night. There does not appear to be any other good way to get around the L.A. traffic.
There are three nice rest areas once you get thru L.A. One is on Interstate 5 at the top of the Tejon pass near Gorman and is the southern most "diamond" on the map below. I stayed in that one on my last trip to Sequoia, but this time I pushed on a little farther to second one (the middle diamond) on Highway 99. There is also a third one, the Charles Wardlow Rest Area, about another 30 miles further north on 99 for anyone interested. In any case I have found this tactic of staying in rest areas the first night avoids most of the aggravation of driving thru L.A. Then when I awake it's a short pleasant drive to Sequoia or Yosemite.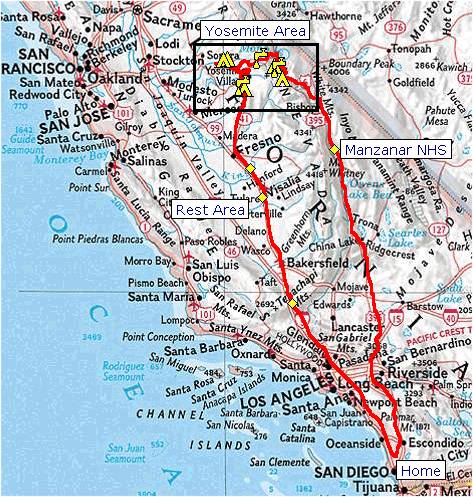 Click on Rectangle for more Detail
I spent most of the time (7 nights) in the rectangle on the above map. However, in addition to staying in the rest area the first night, I'd also mention that I visited the Manzanar National Historic Site on my way back home.