San Felipe, Mexico, November 17-20, 2004
To blow off a little steam, I accepted an invitation from my good friends Mark and Maggie to hook up with them in San Felipe, Mexico around the time of the Baja 500. San Felipe is about four hours southeast of San Diego, on the Gulf of California.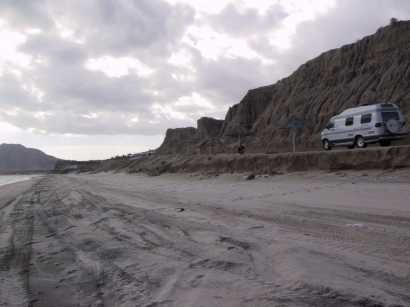 I had a very nice dinner with Mark and Maggie and their friends from Vermont. We jammed and listened to music and the food and company was great.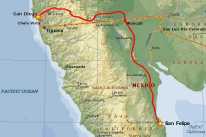 The next day, Mark, Maggie, and their friends went on a long 4WD trip, and unfortunatly, I could not follow in the Van. However it turned out to be Mexican Independence day, and there was a really nice parade in San Felipe, and I sipped Mexican beer as I watched it. Later in the day I found this nice place to camp for $10/night. There was one other couple on the beach about 100 yards from me. I bought a bunch of Fireworks and had a fun time shooting them off and drinking beers and cooking dinner with the sound of the ocean nearby.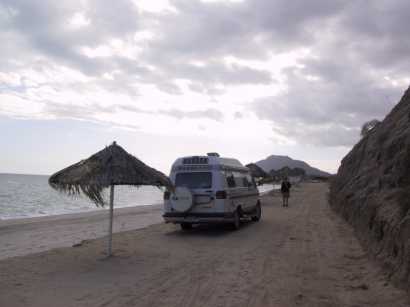 There was an interesting, if somewhat sad story that occurred that afternoon as I was making camp.
I was sitting there watching the sunset and this Jeep Grand Cheroke came racing down the mud flats at low tide. As they were driving by, right in front of my camp, about 50 yards out in the flats, they got stuck in the mud. It was a bunch of teenagers, but they went and got their mom and dad, about 6 ATV's and a Chevy truck to try to liberate the Jeep.
I watched as the sun set and despite all their best efforts they were unable to free the vehicle. They really messed up by not taking the situation more seriously while there was light (and low tide), sitting around talking instead of using putting their backs into the effort. Never once did they simply try pushing while someone spun the tires. They kept breaking nylon ropes, getting the ATV's stuck in the mud, and so on, and also never considered trying to find and enlist the aid of someone with a more appropriate vehicle with, for instance, a winch, of which there must have been dozens in town due to the Baja 500 race.
Anyways, they never got it out and I watched as the tide came in and engulfed it ... sigh ... I glimpsed it at the early-morning low tide and it was up to it's doors in the mud (sinking apparently as the mud underneath was softened by each subsequent high tide). When I left town at about 10:00 am on Sunday it was high-tide again and there was no sight of it ...