Mandala Survey and HauloutOctober 29, 2005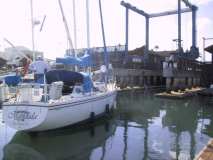 By the way, I want to mention that I had a really good experience with my broker,
Steve Dexter
at
YachtFinders/Windseakers.
No matter how many boats I wanted to look at, or whatever questions I wanted answered, Steve was always available to help me out.
When I finally selected Mandala, Steve drove a hard, but fair deal to get me the boat I wanted at a price I could be happy with. Above left is a picture of him on the boat as it's being hauled out for the Survey.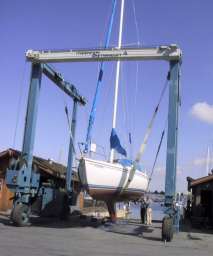 The survey, performed by George from Christian and Company, was, in my opinion very thorough. George talked to me about many different aspects of the boat, what could go wrong, what could be improved, and so on. Happilly, he found nothing of serious concern the matter with the boat, and apart from the minor things that usually need fixing or attention, seemed to indicate that he thought this was an exceptionally nice specimen of a Cat 36 of this age.
As far as the bottom goes, there was a little blistering, not enough to be a concern, but enough, especially since it has been a long time since the bottom was painted, that a bottom painting is warranted. So, we plan on getting it painted in the very near future. But otherwise, the propeller, shaft, zinc, and everything looked o.k. thru the survey, and we were happy with the boat at that stage of the process.
In the end, George placed a value on the boat that was higher than what I was paying for it ! In other words, in his opinion, I was getting it for under market value. After the Survey, I went on the Sea Trial, and was able to close escrow on Mandala on November 4, 2005. As a result, I am now a happy boat owner, addressing the minor issues found during the survey, making minor improvments to the boat, and having fun sailing it! Yea!