1997 New Orleans Jazz and Heritage Festival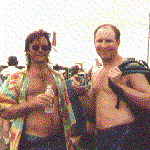 Another Jazz Fest, this our third, as Chris, Bailey and I make our way down to New Orleans again. This year we are joined by my sister, Fran, and Chris's friend Elizabeth (Liz!). The usual drunken partying takes place amidst yet another year's super-hot lineup. Chris, Liz, and I were there for both weekends. Fran and Bailey could only join us for the first weekend. We saw, as might be expected, gobs of good music.

We saw the Neville Brothers at HOB on Sunday night, and caught the Radiators at Tip's on the 2nd Friday. HOB was really crowded and dancing was difficult, but still had fun. Tips upstairs was the same wonderful hot place it was last year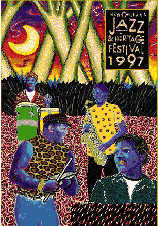 I stayed in three different hotels this time. The first, the Saint Marie was probably the most fun, right in the heart of the french quarter. Then, the Embassy Suites was very nice, if a cab ride away, and the last night I bunked with Chris and Liz at the Comfort Inn on Canal Street.
Ate more good food than I could shake a stick at (again!). It rained like hell the first weekend, soaking us thru and thru on Friday, but was nice and sunny the second weekend. Ran into Keith and Kristy again this year, in, of all places, the big crowd at the Rayban stage during Bruce Hornsby's show.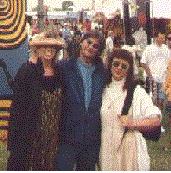 Chris and I brought enough musical equipment this year to outfit a small recording studio. Chris brought THREE guitars, a PA, and a 4 track tape recorder in addition to a virtual plethora of life saving and decorative items. I brought a guitar, a mixer, and some effects. That was fun! Ended up leaving a bunch of stuff at the Embassy Suites and in Chris and Liz's room as well. All turned out ok, tho, as Embassy Suites was very nice about mailing my stuff back, and Liz did me the favor of gathering and mailing my stuff to me. Phew it was hectic!
Like I said ... another JazzFest ... it was so bad I'm already starting to look forward to next year! :-)