New Orleans - my second visit!
Day One - Saturday, April 27, 1996
I arrived Saturday, around 2:30 - changed in the car & went straight to the fest. Chris picked me up in our nighttime blue ford rental car, which carried us forth in good style.
After checking with a transit cop, we parked the car for free. They were putting little yellow "TOW THIS CAR" stickers on what seemed like half the cars; when we asked, we were told of a plethora of parking laws. Apart from the usual laws, a particularly persnickity one is that you must park 20 ft. from the corner. All that choice parking gone to waste, and, I imagine, a large number of lost tourists when they can't find their cars!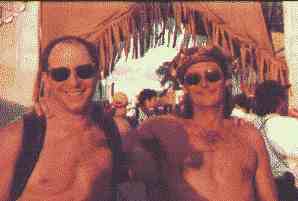 There we a LOT of deadheads, far more than I expected. Mostly the young homeless ones. Phish played Friday & I think many of these kids really came to see them. By the time we got to the show (3-3:30), it was really crowded. The weather was a clear hot 85' or so, so off went the shirts and on came the show!
We grabbed some Crawfish Monica and skirted the big crowd around Buckwheat at the Ray-Ban stage. We heard a little of his music - a much stronger funk orientation than when I've previously seen him - and 20,000 people (as opposed to the 200 or so at S.D.'s Street Scene). Still made my feet move tho!
The next big name act was the Allman Brothers. We infiltrated the crowd & did a ditch dance to the strains of "You're my Blue Sky" & "Ramblin Man", but there were so many folks, we could not really get close enough to actually see them. However, I'm pretty sure it warn't a tape and that Dickey & Greg were up there pounding it out. We then checked out our old favorite, Congo Square, and found Cyril Neville & the Uptown Allstars playing some delightful fusion. Definitely dancable. None of that post modern stuff - just good rocking rythmns.
Chris & I watched the sunset and the crowd thin out - a little melancholy at being mortal, but happy, nonetheless, to be alive and present at our 2nd JazzFest.
---
Day Two - Sunday, April 28, 1996
Woke up Sunday with visions of Jazz plums in my head. Had a much needed hi-fat breakfast at the hotel We made our way to Jazz Fest at about 11:00 - clearly beating the throngs. Paid $5 to park on a city street right across from the fair grounds (it was $10 to park inside the fairgrounds). I bought four tickets to the last weekend from a scalper for $10/ea. Apparently, a number of people get free promotional tix & sell them, but also apparently, it's against the law. No shit. Chris buys these two tickets from this guy, and while the money is still in his hands, a plain-clothes cop puts cuffs on the dude! Just like that he's on his way to jail.
This sobered us up for a second as we made our way into the fest, but our feet were soon moving to the beat of the SUNO Jazz Ensemble at the Ray-Ban stage. Where 20,000 saw the Allmans yesterday, 200 or so were now laying around in the sun and groovin to the tunes. Hardly any deadheads around; a completely different and sparser crowd than yesterday.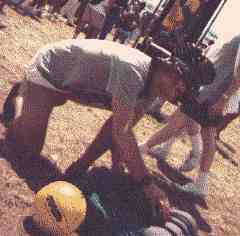 The walkin was easy, so we did the transition zone shuffle, a unique phenomena when you pause between two stages and hear parts of the music from both them. It's a wonderful sensation that seems to capture the true nature of Jazz Fest. In the center of the fairgrounds, there were booths with real art. The colors, sounds, & people add up to a chaos that is full of life and good energy. Heard strains of the Charles Neville Jazz Band as we moved to the Congo Square shopping area - between "Honor" and "Respect", sort of towards the blacksmiths shop (where real fire and metal were being worked into useful and artistic objects). Heard three different versions of CC Rider in as many hours - all of em pretty good!
Around 2:00 we danced to Premiere at Congo Square - some kind of a re-union band, doing songs like "Just My Imagination" and other R&B classics. Heart touching stuff and slow moves.
It gets a little fuzzy here, as once again we moved in an un-directed manner around the show. I remember dancing everywhere I went. I think it was Bryan Lee and the Jumpsteet Five at the House of Bluse stage, and quick stepping at the Fais Do-Do stages. At the Fais-Do-Do stage, I was cutting it pretty good, and found myself in an eyeball thing with this woman. When recognition sets it, I realize it's a woman I know from work (all the way from California!) She says: "You just don't recognize people from work with their shirts off"! We talk. She was here last year too, this year with friends from college (Laurie & Gigi).
We finally positioned ourselves for George Benson, and listened to his trademark voice-over-guiter riffs drifting thru the crowd. We finally left the show to the tunes of Cowboy Mouth on the big stage. They were saying something about realizing that you were THERE. New Orleans. Yeah!
---
Day Three - Monday, April 29, 1996
No JazzFest today, so we have dinner at a place called The Steak Knife and see Marcia Ball at Howlin Wolf's.
Turns out the Steak Knife is a 'ties and coat' place, but with Total Aplomb, we go into the place with shorts and t-shirts. The food is great. No tourist or schlock stuff. There's an exquisite menu (we have escargo, filet mignons, shrimp bordelaise, and the house special, "Fish Robert" - red snapper in a crawfish white sauce. Good ceaser's salads and even the bread is notable).
The waiters take an interest in us & the Southern Hospitality starts to shine. Michael and Chris (the waiters) give us lots of good info about the local music and food scene, particularly mentioning the bars Snug Harbor and the Maple Leaf.
We arrive at Howlin Wolf's to the tunes of the N.O.Angels (it's a joke, get it?!) and it's a great venue. Maybe 75 people in a bar that probably takes 250 on a Friday night. We're among the first to dance as the energy levels pick up for Marcia Ball. She does a soulful set of songs, each one rocking, yet really gut wrenching with emotions.
We spend every cent we have on beers & dance the night away. Everyone marks the evening a great success. "Yeah, this place sucks", says Chris sarcastically.
---
Day Four - Tuesday, April 30, 1996
Today is supposed to be a tourist day, but everyone is moving a little slowly after last night. We make plans to eat at 10:30, 11:30 and finally have lunch in the restaurant at 1 or 2 in the afternoon. The sun is out and we spend some time by the pool.
We go to the French Quarter during the day (my first time), and it's delightful. On the waterfront walk, I ask a couple of deadhead if I can get a couple of braids & beads, but they tell me that "wrapping is where the money is"; they don't do braids!
We're too late for the riverboat tour, so we dive into the F.Q. for some more serious shopping. At the kite store, we buy windsocks, kites, and a bunch of neat little toys. T-shirts and beads are purchased at several stores. I get a1996 Jazz Fest poster at a corner store from an Indian guy who doesn't quite answer the questions you ask him.
We have a sunset dinner on the balcony of Andrew Yeager's House of Seafood. The food's good, but unremarkable given the surroundings. We meander to Bourbon St.
The line at Preservation Hall to see the Preservation Hall Jazz Band (reputed to be the thing to do on Tuesday nights - their regular slot) is intimidating. There's at least 150 people lined up outside, so we pass it up and just listen to four or five bands through the doorways on Bourbon. A little woozy we sense that a walk might be in order, so head back to the riverfront, four or five blocks away.
One of the great challenges to Bourbon street and the French Quarter in general is timing things so that it is convenient to go to the bathroom when you are buying a drink. It's the only time people let you use the facilities! We have a hard time of it at the park trying to find a place. However (at least for the time being) we are sated, and so go back to the car. It's still early, the night is nice, so Chris and I decide to play guitars in the park.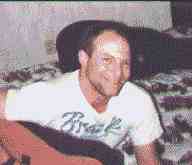 We sit and the deadheads hit us up for cigarettes. "Do you know any dead tunes", she asks. Ha Ha Ha. We do "Going Down the Road", "Casey Jones", "Friend of the Devil", and one of the girls asks for "Me and Bobby McGee". It was really nice. They were spinning and singing, and dead-heads a hundred and fifty feet away howled when we finished. They have a mini-drum circle 15 feet away, but we can never quite get it together (although there were some near misses). We did a couple more ("Not Fade Away", and Sam Cook's "If You Ever Change Your Mind") and wrap up the evening.
Another shitty day in New Orleans comes to an end!
---
Day Five - Wednesday, May 1, 1996
We spend a day hanging out at the hotel and pool, drinking Margaritas thru the afternoon. We decide on Dinner at the Bizou, on St Charles, to be followed by Beau Joque at the Mid-City Bowl.
The Bizou is really nice. We have a window seat, and there are quite a few tourists going by. The architecture in the neighborhood is distinctive Southern Turn of the Century. Archways, columns, porticos and stained glass. The food was notable, but I didn't write it down. It's a really nice place to go, in case you're interested.
We head up S. Carrolton to the M.C. Bowl, park behind, and wait maybe 15 minutes and 35 people to get in. You go up these stairs, where the bowling alley sits above a number of stores in a strip mall. It's packed. The opening band is playing and there are clearly no places to sit. There's a line two to three deep around the bar. We try to dance on the dance floor, but unless you are an agressive Zydeco dancer, and do the right moves (the circle goes counter clockwise, right?), it's all bumping elbows.
Chris gets a lane and proceeds to Bowl. All of the aisles are full, and people are dancing in (presumably, their) bowling lanes. I join them late in their second game, and they let me catch up. That was pretty fun - you can kind of dance and bowl. But overall, I would recommend going on a quieter night, when there's a little more room.
On the way out, we stop and regard the building with awe. After you come down these fairly steep stairs and exit to the parking lot, you're back in this strip mall. The building has the typical plate glass front. Except for one thing. Due to the rythmn of the people dancing inside, the windows and doors on the first floor are bulging in and out with a pulsating beat - it looks like they might break any second, but I have to assume it's been going on a long time before we got there, and will continue after we leave! We all drive back to the hotel and call it a night.
---
Day Six - Thursday, May 2, 1996
We wake up at 10:00 a.m. or so, and have our usual breakfast in the hotel dining room. We lounge around and make it to the show around noon. Today is a day of lesser-knowns at the JazzFest. We see, I believe, Wallace Johnson (Blues), the True Tone Gospel Singers, and wander around for most of the day. Around 4:00, I think we saw Walter Payton & the Snap Bean Band at the WWOZ Jazz Tent, and Zobop of Haiti at the Fais Do-Do stage. We stake out a place in the big crowd (to the right of the stage, towards the back) to see the Indigo Girls. I'm not real familiar with their music, but everyone sings along with their beautiful, precision harmonies.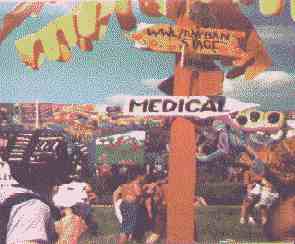 We catch a little of the remaining cultural acts, including Larry McCray (Blues), the Bruce Daigrepont Cajun Band, and the Folkloric Dance Company of Haiti. We danced at the other big stage to Boozo Chavis & the Magic Sounds (big Zydeco & Cajun sound).
Back to the hotel, we freshen up and decide on a unstructured evening in the French Quarter. We have a wonderful Italian dinner at a little restaurant just down the street from the Brewery on Decateur. As we wander the French Quarter, we make our way back to Decateur and stop by the House Of Blues. The show is sold out, but we go into the bar where they pipe the show in over closed-circut T.V. The Subdudes are playing, the place is packed, and we leave.
A couple of doors down to the east, we stop in a little bar and drink beer and play pool. After about three games we call it an evening, Chris drives us home, and we're in bed by 1:00 a.m.
---
Day Seven - Friday, May 3, 1996
We're getting to be pretty old hats at this, so we decide to go to the show late today. I sleep in, have a luxurious breakfast and we all leave for the show at 1:30 or so.
Today, we come into the show to the tunes of George Porter on the Polaroid stage, backtrack to the blues stage to catch the end of Anders Osborne, and position ourselves by the water fountain to hear Buddy Guy. I'm really impressed with Buddy Guy. The dynamics of the band are great - loud raucus hard blues one second, and the next second, they come down to almost nothing, causing the whole crowd to 'fall inwards' towards the stage. Another thing I really like is the fake endings - the crowd doesn't know what's going on as the band builds up to an ending, and then does the dynamics thing and keeps on playing. This one song goes on for a long time, and when Buddy Guy plays softly, a Horn Section playing in the gospel tent comes in, in perfect tune and rythmn, and does some tasty fills. It's almost like they're doing it on purpose!
I go to see Joe Louis Walker at the H of B stage. A friend of mine interviewed him as part of a class project in Tucson, but I've never seen him, so I definitely want to give it a try. He plays straight, pretty hard, blues.
By now the show is getting towards the end, so we wander around, catching Zopop of Haiti, and strains of Dr. John, before meeting back at the car.
We order hamburgers from the restaraunt, shower and have a nice relaxing dinner. We have tickets to Tipitina's tonite, and so decide not to have a complicated dinner.
We arrive at Tip's around 10:00. Anders Osborne is playing (real good blues rock - rumor has it he's Ozzy Osborne's son). The place is packed; there must be 80-100 people outside in line. We waltz up, get our will-call tickets, and are in the place in 2 minutes. We spend a couple of songs on the ground floor, where you can see the band, but are elbow to elbow with people. Everytime someone wants to move you have to protect your drink. I suggest we try the upstairs, which we do (you have to go back outside, and then thru a separate door). When we get upstairs, we fall in love with the place. Although it's very hot (I'd say around 95 to 100 degrees), there are open windows and ceiling fans, but most importantly, there's room to dance, which we do. The place is very distinctive. There are almost no lights upstairs (the only light comes from two 'Exit' signs), and it's very hot, and all-in-all a very fun place. Drinks and bathrooms aren't a problem.
The Iguanas come on and as I'm getting a drink, and I run into a friend from San Diego!! I didn't think he was coming (we see each other every day and he never mentioned it), but here he is, in the flesh. It's great to see him, and he tells me some other folks I know are also here. We all dance and drink and have great fun. The Subdudes come on; I've been waiting to see them, since I hear they're the up-and-coming thing in N.O. They live up to their reputation with great gospel-folk-blues-rock. After a couple of tunes, Chris says he wants to leave, so he cuts out and we continue partying.
After another 10 or so songs, we catch a cab to the French Quarter (it must be 2:30 or so). Dance to a couple of bands and end up in a courtyard with a (surprisingly) good Blues Band for their last few numbers. We leave the French Quarter around 4:00, taking a taxi back to the hotel.
---
Day Eight - Saturday, May 4, 1996
Today is our last day at the actual JazzFest due to travel arrangements.
We see bands like John Mooney & Bluesiana and catch a little bit of Better Than Ezra. We hook up with Chris (on the shady side of respect) as we listen to the African Fusion of Salif Keita. We hear a little of Beau Jocque again and bits of Van Morrison from the main stage as we close out our last day at Jazz Fest 1996.
We decide to have dinner at the Steak Knife again. I drive us thru the park on Harrison again and we come in for a Saturday night dinner. Tonite it's full and there's a three piece jazz ensemble (drums, bass, & trumpet). We have a wonderful dinner.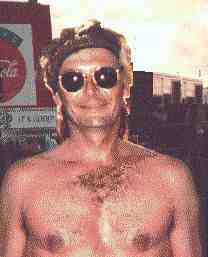 We have decided that tonite, our last real night out, we will try one of the clubs that we have heard about but not yet been to: the Maple Leaf. We head over to the club and once again there is an active street scene - about 100 people outside (there's a bar open to the street, and you can hear the music pretty good). We get there about 11:00 and stay until about 2:00. Seating is a little rough as it is very crowded, so we spend some of our time outside, and some in the very back corner of the patio. We dance where we stand, and drink quite a bit. In fact, I get a little bit drunk!
We are all just about played out as we head back to the hotel at 3:00. This is what we came to N.O. for - to party so much it hurts - and this is pretty much what we get. My legs and feet are aching, I've seen more music in 7 days than I'll probably see for the rest of the year, and in general, the trip was a success.
---
Day Nine - Sunday, May 5, 1996
My last day in N.O. this year. I have to leave for the airport around 4:00. Could not extend my trip - they wanted $670 for a one way ticket back to S.D. tommorrow!).
Get up around noon - lay around and talk and listen to music for a while. I spend what seems like 2 1/2 hours packing and catch a cab to the airport. The taxi driver is 30 minutes late, I barely catch my plane (to Salt Lake City) .. the plane is full and I don't get a chance to have a cigarette. It takes longer to get home than it does to get there (Jet Streams?), so go directly to the smoking lounge at the Salt Lake airport. While I'm sitting there having a cig, I see another friend from San Diego, Lisa, walking by! She says that she and Nick are returning from Oregon where he just got done playing a gig. We board the plane to S.D. together, drink beers and talk all the way, and get to the airport around 11:00. By midnight I am home, and my vacation is over.
This was my second trip to N.O. I think I will change things a little next year (hotel closer to F.Q., no rental car, one weekend only, overlapping Monday/Tuesday nights). Last year was a completely new experience and I was really blown away. This year, now having expectations, I was worried that the event might not live up to my hopes. Overall, I would have to say that it did, and that New Orleans during Jazz Fest is one of the funnest places you'll ever find.