---
In June of 1995 I had the pleasure of visiting an all inclusive club in Jamaica called Hedonism II. Nestled in the lush tropical surroundings of Negril, there were many pleasures to be had in this little piece of paradise.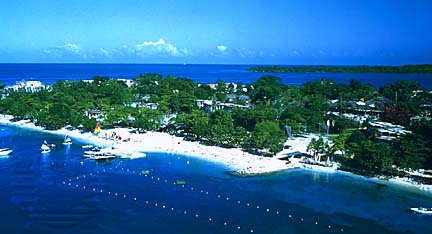 I really can't say enough about this club. It is truly an all inclusive, including not only 3 wonderful meals a day, but a full stocked bar until 2 a.m. each morning. After hours, or while waiting for a real drink, you could always just grab a drink from the self-serve Vodka Slushy machine. The beaches were lovely and there were plenty of activities if the drinking and lounging on the beach got too boring.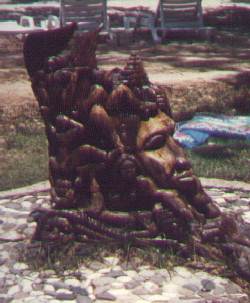 I went scuba diving twice and it was really really nice. Great visibility and enough sealife to make the dive genuinely interesting. To the left is a picture of a magnificently carved tree trunk. The figures in the carving are involved in every kind of carnal pleasure. The man who did this trunk was working on a whole tree right next to the beach. It was some of the most inspired wood-carving I've ever seen.

In the picture below, just as the cameraperson said "cheeze", these two women walked by taking their shirts off. What follows is an example of my attention span during the week long stay. It was the first time I stayed at a clothing optional resort, and it took a little getting used to.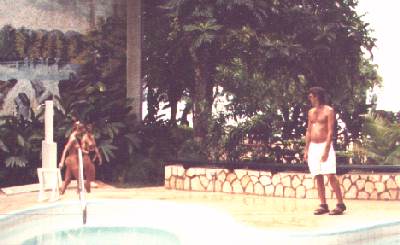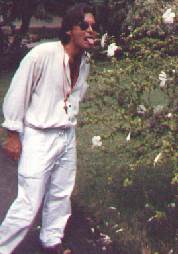 The grounds of the club were absolutely lovely. There were all kinds of romantic little places and flowers everywhere. The people were really friendly, and I had a terrific time.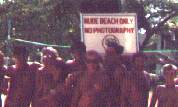 Here are a bunch of us posing in front of the "No Photography" sign for a farewell picture.


In summary, I'd have to say, if you are debating where to stay in Jamaica, and are currently considering Sandals or some of the other yuppy traps, you should strongly consider Hedonism. It's far more of an adventure, and the cost is about the same.