Dano's PBR (Power Boat, River) Box
Wenge with Maple, Mahogany, Cherry, and Wenge inlay
I made this box for my Sister's friend Dano for his 55th birthday. He's a vietnam veteran and was with a PBR company back in 67-68, so I thought this box would make a nice gift. The box itself is made from 1/4" Wenge, which is a coarse grained very dark wood from Africa.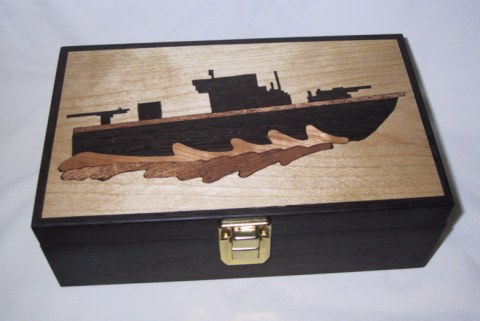 I chose to use an inset of Maple as a backdrop so that I could have the boat be dark-on-light instead of the other way aound. This technique also made construction easier as I was able to cut-out the maple with the scroll saw rather than having to route it out with the dremel (the background and all inlays are 1/8" thick). Once the lighter background was established, I then used the Wenge for the boat itself, and Cherry and Mahogany for the water and the strip on the boat. The pattern was derived from a logo on a PBR company's website using Paintshop.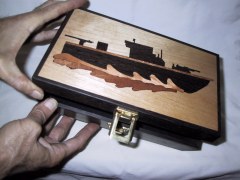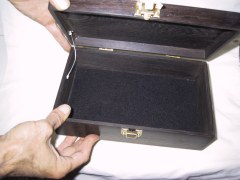 The construction was similar to the Valentines box, with mitred corners, and a "deep" top, but the top was constructed differently, and this box has no drawers. To finish it off I added some nice brass hardware from Rockler, oiled it, lined it with felt, and was done just in time to drive out to Tucson and surprise Dano for his birthday.
Dano was, I think, very pleased with the box and I sure enjoyed making it !