Christmas 2001 - San Diego, CA
We had ourselves a big-old Holiday this year ! Fran and Dano drove out from Tucson and stayed a few days in the new house! I put up a nice big tree! I invited everyone over for a big party. It was really nice having so many of my friends take the time to visit for the holidays. Kevin and Anita, Devin and Ruth, Pat Kingsland, and Mark Johnston were all there. Devin also brought a few of his friends, and a good time was had by all. Did I mention food?! Everyone brought something. The spread looked like a caterer had set it up. And the drinks ! We had a whole table dedicated just to the bottles of wine, beer, whiskey, martini's, tequilla, and so on.
The big hit of the party, though, was Cheu Cheu, Fran and Dano's 8 week old dachsund puppy. You should have heard the girls squeal with delight when they first saw this little beauty. Even I was totally bowled over by this little teeny bundle of joy !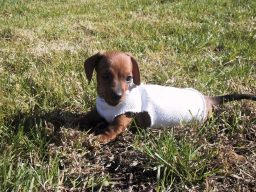 So we partied and partied. We had three rounds of Yankee Swap. We setup and jammed christmas tunes. We played pool on our brand new Billiard table.
I think Devin was one of this year's big Yankee Swap winners, though pretty much everyone wanted the titanium hand sprinkler which Mark proudly took home.
Once again, a great time was had by all and I sure thank all my friends for showing up and sharing the Holiday Spirit !