Carnivale and St. Patrick's Day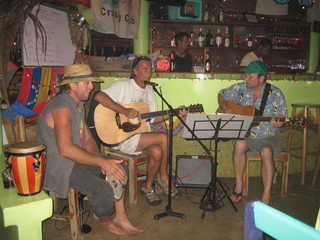 Any plans to move north during March were squashed by the weather offshore, which has been generally nasty with 25-35 knot north winds and 10 foot seas at 7 seconds the norm. The weather inside the protected Bahia Almirante, on the other hand, has finally abated.
So, we've spent this month hanging around Bocas Del Toro, getting to know it better. One event we were looking forward to was the local version of Carnivale. Bocas, being a town of about 4000 people, could be expected to have a pretty good party, even if it was not on the scale of Rio or New Orleans. The town geared up for it by blocking off main street and setting up a stage, beer trucks, and vendor booths.
The only disappointment was the lack of any live music at the event. Pretty much day and night, through the whole weekend and upto Tuesday night, the large PA system boomed out tipico and rap music while the people loosely mingled in the streets. We didn't go into town at night, when the party was really going, because it wasn't really our kind of scene. But I was surprised that there weren't any bands, and that there were no parades.
We walked the streets on Fat Tuesday, and got to see a display of the devil dancers, They were guys dressed in homemade black costumes with outlandish, giant masks, carrying whips that they would crack on the ground with a loud "snap"! If somebody in the crowd eyeballed them, or presumed to dance out and touch them, three or four of the devils would converge and snap the ground around the dancer to, let us say, heighten his efforts. It was all in good fun and really something to see.
During March, I continued to jam around town with Andy and a host of other musicians. One event of special note was St. Patrick's Day, where it got quite boisterous as Paul joined Andy and I in the Calypso Cantina for a rollicking evening of drinking, guitar-playing, and singing. The whole crowd was energized and a guest appearence from "blues-belter" Jan of MV EMMA JOE put folks into a frenzy. We partied till late that night!