Jammin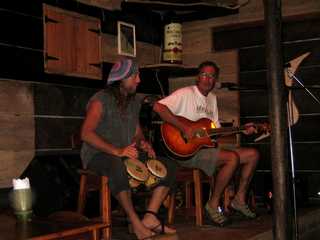 For me, though, the real story of our first few weeks in Bocas Del Toro was the discovery of the music scene here. It's kind of a pattern with us now. As soon as we pull into a place, we put the word out that we're looking for other musicians to jam with. We also try to check out the local live music scene.
So, one day early on, we visited town and, in addition to generally exploring, went to virtually all of the places that might have live music. There was a surprising dearth of live music to be found. There are perhaps 10-15 bars in the town, serving the 4000 residents and continual influx of hundreds of tourists. None of the major bars had live music, favoring instead the pulsing disco scene. We did find a couple of places where I might be able to gig, including one called "Baum Faulks" where the manager was a keyboard player, and there was a trap set and P.A. set up, but unused, in the corner, but for the time being, we couldn't find a single live act to go see.
Back at the marina, we met Mike and Dee Dee from JOSS who told us we had to get together with this Texan named Andy on the boat IRMA, out in the anchorage. They pointed his boat out and it was easy to remember because it was the only sailboat without a mast. Apparently he was in the process of fixing it. We got to meet him at dinner one night and we agreed to get together for a jam sometime. Andy plays bongos, as well as drums and a bit of guitar, and seemed like a really nice guy.
We had spent the end of the first week taking care of some paperwork issues, namely renewing our Visas, and by Friday night were free and clear, well esconced in the marina, and enjoying a round of cocktails at the "Calypso Cantina" (the marina's bar/restaurant), when Andy appeared, and at the urging of several of the patrons, we decided to have an impromptu jam there in the bar. It was great fun as I brought a little amp and banged out Grateful Dead and other cover tunes and Andy spiced them up with syncopated, interesting, Latin rhythms on bongos. We had a great time and the crowd really appeared to like it, hooting and hollering along with us. When we were done playing, the restaurant manager, Sharky, came over and asked us if we could come back, for compensation, on the following Friday night. Andy and I agreed and so, that quick, we were a working duo!
Andy, who has been here in Bocas for 10 years, was able to clue me into the music scene in town. He said that there were several restaurants and bars that were desperate for live music, and that, on any given night, there were multiple place we could get gigs. He named a few other musicians that we might be able to get together with, including a Panamanian guitar player named Cheto and another guitar player named English Bill. Having been away from a music scene for the last couple of months, I was enthusiastic to meet and jam with other musicians. I told Andy as much and encouraged him to set up some gigs.
Very quickly Andy lined something up. The very next night, Saturday, we had our first gig at a place called "Captain Tutix". It's more of a bar than a restaurant - it probably holds about 100 people. They have a nice little stage and a P.A. that pipes the music through the rather large open bar to the street below. Andy and I set up and jammed through a number of Dead tunes. At first there weren't many people, but as the evening got on, a number of tourists walking the streets stopped and took tables and had drinks. By our second set, we were all having a good time. One of the managers, Lucas, even got up and played some tunes; everything from Argentinean Love songs to Elvis Presley. I enjoy playing with Andy, who gives a big spark to my guitar playing. We extended songs, improvising for long stretches of time, something that clearly we were both enjoying. The evening wrapped up late with perhaps 40 people in the bar. The manager said he had enjoyed it and invited us back for two nights a week.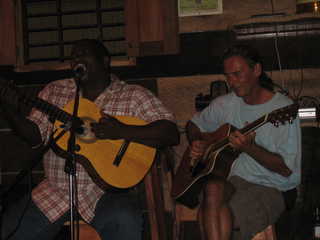 So, on the following Wednesday we showed up and played at Tutix again. There was some confusion about the booking, as the locally well-known, left-handed guitar player, Cheto, arrived expecting to be playing that night as well. He was really nice about the whole thing, and we traded sets throughout the evening. He sang and played some really slick Gypsy Kings stuff, beautiful Calypso love songs, and good covers of Eric Clapton and the Eagles. I sat in behind him on bass and played a little lead guitar on a couple of his songs.
Well, you can see where this is going. By our second week in Bocas, we had three gigs a week going. Friday night we played at the marina again, this time with a harmonica player named Sonny from the anchorage. Then on Saturday we played Tutix again, joined by English Bill, who did sets of Hendrix, Morrison, and so on. Late in that evening, we were joined by this really nice couple, John and Anne, from Ontario, Canada, who got up and did some nice '60s covers. Saturday evening ended up with a big a group jam, Andy on bongos, Bill on lead guitar, John on rhythm, and me on bass as Anne belted out some tunes that brought everyone in the restaurant to their feet and dancing. It was quite a nice night; one that I'll remember for quite a long time.
So, it's really nice to be here in Bocas. It's just the right sized small town to support this informal music scene. It's so much friendlier than the big city competitive music scene, like in San Diego, or, say, Acapulco, where there are usually more musicians than places to play, and all of the gigs are hotly contested. And of course, it's also much different than being out at primitive anchorages, which, while nice, don't provide many opportunities to meet and jam with other musicians.
We're planning on staying here in Bocas for a couple of months to wait out the northers before continuing our journey. I think it's going to be a fun time!