Our lovely visit to the village at San Ignacio de Tupile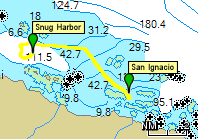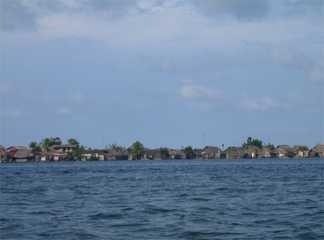 From Snug Harbor it was not very far, about 6 miles, to our next destination. Using our incoming track and yet another set of Bahaus waypoints, we have no problem getting out of Snug Harbor, rounding the islands and entering the channel to the island of Tannaquetupu, also known by the Spanish name of San Ignacio de Tupile. We anchor at the place shown in the book, about 1/2 mile south of the island, in a cove off the mainland, laced by mangroves and palm trees, and rolling green hills.
There are 5-10 ulus, scattered around the big bay, between us and the island, when we arrive. Some of them row over and we purchase a bunch of lobsters, like 15 small ones, from one of them for 30 cents each, plus a big $3 lobster. Another boat comes by from the Congresso (village govt) to charge us $10 for staying here, which we gladly pay in exchange for a receipt that they give us that is good for one month's stay.
As we are getting ready for dinner, another boat, GLIDE, pulls into the bay, motors to just off the island, and anchors. Wow, we were afraid to try that because of all the reefs shown in the book, so we have a 1/2 mile dinghy ride, whereas they are less than 100 yards from the island. When we get them on the radio, GLIDE says that they have been here before and already knew about their anchorage. We ask them about the rumor that there's a Guitar Player on this island, and they confirm it: there is a guitar player on this island.
We were very interested in visiting this island, because of the aforementioned Guitar Player, but also because we want to try to get a little deeper into the Kuna culture and understand a bit more of their society. So we decided to go into this village and "really" check it out, not just stop by for provisions. But there's no rush. We'll be here for a few days, so we have our Sunday night lobster feast, and make plans to go into Tupile the next day, on Monday.