Dinghy ride to Dog Island to dive the Wreck there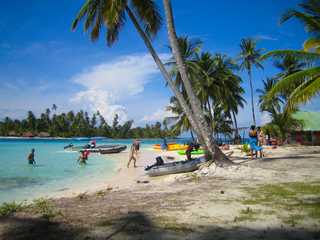 We stayed at the East Lemon anchorage for four nights. On our last full day there, we decided to take the dinghy over to nearby Dog Island, about 1 mile away, and do some snorkeling. There is a wreck there, a small cargo ship, reportedly beached intentionally by her skipper during a storm, and everyone says it's a neat dive.
So, we loaded up the dinghy with all the essentials: anchor and rode, snorkel gear, picnic lunch and cooler with some drinks in it, bug spray, shoes, and towels, and went over to Dog Island. The dinghy ride was nice, it was a sunny day, and we were able to get up on a plane and get over there in 10-15 minutes. As we rounded the corner to Dog Island, we saw several boats at anchor, including the charter boat with the backpackers from the volleyball game, so we stopped by to say hi to them and get the lay of the land.
We were surprised by the number of people at Dog Island and in the water snorkeling. It turns out that there is a small cruise ship that regularly stops here, disgorging 50-100 tourists a few times a week. The Kunas take advantage of it and have set up a tienda/restaurant and have lots of molas and other things for sale to the tourists. There must have been 50 or so people on the island as we brought the dinghy to shore.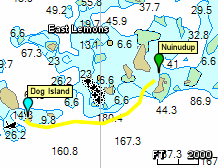 Once ashore, we donned our snorkel gear and went out to the wreck. It was pretty interesting to see the cargo ship in the water, rusted out and stripped of anything of value, slowly turning into a living reef. There was a lot of coral and a variety of fish, although, due to the large number of visitors, it had a amusement-park-like feel to it. There were 5-10 other snorkelers out while we made our way to and around the wreck, occasionally getting in the way of one another.
We spent about 45 minutes diving the wreck, then returned to shore to have our picnic lunch on a towel in the shade of a palm tree. We watched as the Cruise Ship launched several Zodiacs to shore, carrying about 12 kayaks for their guests. Another problem with all this traffic is that the Zodiacs, with their big 40HP motors, stirred up the sand and debris as they landed on the beach, limiting snorkeling visibility.
After a quick walk around the small island, noting that the Molas were priced about double what we were used to from the natives who visited us in Chichime and the Lemons, and taking a few photos for posterity's sake, it was time to return to RHAPSODY.
We spent one more night anchored off Nuinudup in the East Lemons. The following morning was Monday and we wanted to be up early and on our way to Porvenir to officially check in to the Comarca Kuna Yala.