Cruisers Clubhouse, Volleyball and Potluck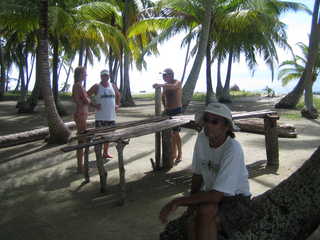 We didn't do much our first night at the anchorage except to relax and have our evening cocktails. The next day, BLUE SKY, with Breeze and Debbie aboard, pulled into the anchorage, came on the radio, and suggested an afternoon "low contact" volleyball game. The cruisers, in cahoots with the Kuna elder on Nuinudup, have contrived to set up a "clubhouse" of sorts on the island. There is a crude table made of bamboo, a number of benches made from fallen palm logs, and a space has been cleared to set up a volleyball net. The Kuna elder, Carlos, tends the area, raking it each day, so when you visit it, it is a very special place.
We combined our visit to the beach with a community trash burning session. About 4-5 boats' worth of couples, including Bob and Sandy from SAPPHIRE, Bob and Susie from SUNRISE, as well as Breeze and Debbie, plus singlehander Jorge on SORRENTILLA, all came to shore. While Bob started the fire, Breeze set up the volleyball court, a funny crooked affair, with a few palm trees in-bounds for variety's sake, and soon we were all tapping the volleyball back and forth over the net.
We were joined by several Kunas. Carlos, the elder of the island, was a game, if inexperienced, volleyball player, and Demetrio and Navarro from nearby Banedup also joined us, playing the game exuberantly. The game went on for several hours with people rotating in and out to take breaks, drink beers or cocktails, and chat about their adventures.
Towards the end of the game, as things were winding down and Breeze was taking down the net, I was talking to Demetrio and fathomed that he knew how to play a little guitar. Since Breeze and I had jammed in Chichime, I suggested that we all get together the next day on Nuinudup for a little jam session. Debbie further suggested we turn it into a potluck dinner, an idea which everyone quickly warmed to, and so everybody agreed to meet back the next day for more fun.
We did a little dinghy exploring the next day, visiting Roberto and his son's home on one tiny isla, then across to Banedup, where we went to its small tienda and bought some fresh (baguette-like) Kuna bread and a half of case of beer for the potluck. Later, in the early afternoon, folks began congregating on Nuinudup. All of the group from the previous day were there, joined by 5 Dutch & German "backpackers" who were on a charter from San Blas to Cartegena, along with their skipper, Mike, on WINDSEEKER. First, a rousing couple of rounds of volleyball were played, then cruisers from BRISA and BLUEPRINT joined us with their potlucks. Soon the guitars and a hand drum were broken out and the music began.
Demetrio played us some kind of a native Panamanian or Kuna song, which was nice, even if we didn't understand a single word, and Breeze joined me in a bunch of Grateful Dead and other cover songs. Everyone set out their potluck foods and spread them out on the table. There was a big chicken salad, some tasty pork and beans, cole slaw, kuna bread, cheeses, salami's, chips & salsa, and in general it was a very tasty meal. The Kuna guys particularly seemed to enjoy eating this variety of, what must be to them, strange foods.
The party wound down as the sun set and everyone returned to their boats in their dinghies.