Meeting the Islands and the People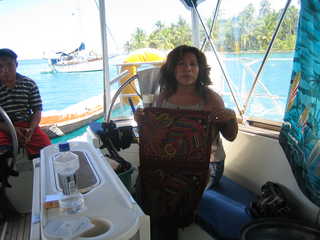 We anchored in 25 ft, just north of Uchutupu Dummat, the larger of these twin coconut-tree-covered, flat, sand, 100-yd-long, islands that are almost completely surrounded by coral reefs. This group is well protected on the north and east by a half-mile thick/mile long reef. It is very trippy to look out over your calm, clear aquamarine anchorage waters at the open sea crashing in breakers on the nearby reefs. Truly a dreamy, picture- postcard place, we sat stunned at its beauty.
The next day, we were visited by the "big island" mola ladies, two ulus with the "little island" mola ladies, and even two ulus with outboards in from the mainland 8-9 miles away, carrying renowned mola makers Lisa, and Venacio, respectively, from Rio Sidra & Isla Maquina/Mormaketupu. It was the first of many pleasurable surveys and purchases of said molas, with accompanying "girl-talk" with the friendly Kuna. Also stopping by to make sales are the fishermen in the families, offering $2-$3 lobsters, $5 crabs, and all the $1 snappers & trigger fish you could want. The lobsters are the best deal for us, and so we've been having them every other day or so! Mmmmm mmmm mmmm :-)
In the next days and evenings to come at Chichime, we also had the pleasure of meeting, dining, and jamming, with Reggie from VOODOO CHILD, and Breeze & Debbie from BLUE SKY. Reggie, a Belgian cum Aussie, works six months out of the year as the engineer aboard a super-yacht in the NE Caribbean, making enough money to sail his own boat the rest of the year. Breeze and Debbie are liveaboards who also do some charter & canvas work, and have been in Panama for a number of years They are out of Captiva, Florida. Breeze is also, delightfully for me, a deadhead, and a guitar player, so it wasn't long before we all got together on BLUE SKY for dinner and a jam. Good times were had by all.