40 nm from Isla Linton to Paradise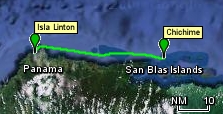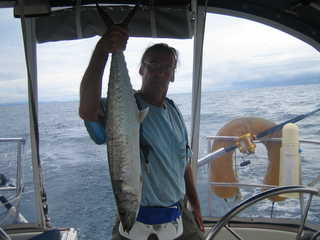 Sunday, Nov 2, at 6am, we motored out of Isla Linton, happy to at last be on our way to the fabled San Blas Islands, home to the indigenas Kuna people, who autonomously govern this region of Panama, which is called the Comarca Kuna Yala. We steered east, taking the "inside passage" off the mainland. There was a bit of wind, so we put up the sails and motor-sailed through the morning.
Of course, we put out a fishing line as we made our way. As we were passing through a place called the Escribanos Shoals around 10am, we got our first hit, and were very pleased when we reeled in a 3 foot wahoo. the first of this species we've ever caught, as well as the first fish we've gotten in the Carribean. They're supposed to be really good eating, and we needed to stock up our larder, so after quickly gaffing and bringing the fish aboard, we put the line back in hoping for a another. Sure enough, within a few minutes we caught a second, larger wahoo, this time around 3.5' and brought him aboard. Pleased as punch at the two fish, we decided to try for a third, and wouldn't you know it, about 10 minutes later, we had our third wahoo, another 3-4 footer. The three fish yielded over 20 lbs of nice white meat, enough to feed us for nearly our entire planned stay in the San Blas!
By this time we in sight of our destination, the Chichime Cays, I hurriedly cleaned the fish, washed the blood out of the cockpit, and then we quickly put down the sails and made our way for the channel entrance. A little confused about how to enter the anchorage, we hailed a vessel that was already in the anchorage, and got some specifics about the reef-protected entrance. In no time at all, we were in, and were circling our proposed anchor spot, looking for the best place to drop our anchor.
Before we even had the hook down, two ulus, long, carved tree-trunk dugout canoes, immediately descended upon us, with 3 Kuna ladies in each, eager to make a first sale of some of their famous handicraft "molas", panels of brightly colored, appliqued, embroidered cloth in vivid geometric and/or animal designs. we politely explained to them in broken Spanish that we were very busy anchoring, but would they please return tomorrow? That was fine with them, so off they paddled back to shore and home. We proceeded to drop our anchor at 1pm; Paradise, here we are!