Isla Linton Anchorage, a week of Rain and Boats A-Dragging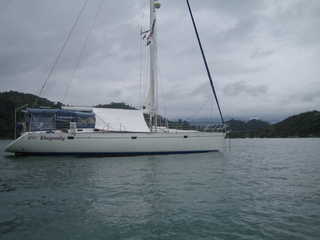 It started raining soon after we arrived at Linton, and basically, with only a few short breaks, it rained for 5 days straight. We took advantage of the rain by putting up the tarp to collect rainwater, and were able to top off our tanks, while we spent most of our time on the boat, reading, building web-pages, and so on. When it did clear, one day, up we took a dinghy exploration over to Isla Grande, to check out the anchorage, and see the villages there. On the way back, we stopped at the fishing village on the mainland across from Isla Linton, La Guaira, where we had a nice lunch at the only restaurant there, run by ex-cruiser Hans, who served us chicken, fish, rice, and beans, with great fresh-squeezed watermelon and pineapple juices.
The only other excursion we made at Isla Linton was to get some fuel. Since we had not filled up since transiting the Canal, we had used about 25 gallons getting to Shelter Bay, Portobello, and here, and generating our electricity for the last week or so. We had heard that fuel might be hard to come by, or expensive, in the San Blas Islands, so we wanted to top off before going there. I transferred the diesel fuel from the 5 jerrycans on deck into the tanks, and we took the jugs into La Guaria in the dinghy and had them filled. We also got a couple of gallons of gasoline to top off our supplies for the outboard. It was a good thing we started that task early, at 8:00 am when the morning broke clear, because when we got back to RHAPSODY at 10:00 am or so, just after we re-tied the filled fuel cans on deck, it started raining again.
So the main story of the week here was the heavy rain that fell nearly every day and night. We would occasionally turn on the instruments and measure winds in the 25 knot range with gusts to 30. It rained so hard that the water collection system could not keep up ... sometimes it would rain several inches in just an hour or so, a pounding crashing thunderous rain, that just overwhelmed the 1.5" pipe that fills the water tanks.
One night in particular, the wind was blowing very hard and we spent almost all night awake watching RHAPSODY to make sure that she did not drag her anchor. After finally getting to sleep at 4:00 am, we were awakened at 5:30 by someone pounding on our hull and shouting at us. The skipper of the catamaran next to us was in his dinghy in the driving rain and we scurried to grab some clothes and get to the deck, where he told us that several boats had dragged anchor and that, according to him, RHAPSODY had almost hit his boat during the night. He said that he had shouted and screamed at us, but could not awaken us. I couldn't help but think that shouting from boat to boat in a rainstorm is not a particularly great idea, and wondered if the guy had ever heard of an air-horn.
The guy was pretty wired up, so we calmed him and took stock of the situation. It looked like RHAPSODY was ok, with 30-40' between us and the his catamaran, so there was nothing to be done in a hurry. We told him we would re-anchor RHAPSODY further away from him after the sun rose. We continued to chat and he filled us in on other news about the night. He told us out that this one huge catamaran, NEUTRINO, a big 75' yellow monstrosity that had been anchored about 100 yards east of us, had slipped its anchor, and passed right between RHAPSODY and his boat in the storm. We were shocked to see the big catamaran about 1/2 mile west of us where it had apparently finally come to rest after catching its anchor again. Wow. Glad that we were not awakened by that big boy hitting us! He also told us that several other boats had slipped their anchor and that we could and should monitor channel 72 on the VHF to find out more.
After he left and went back to his boat, as the sun was beginning to rise and we could start to see around the anchorage, we turned on the radio and listened to the sagas as some of the other boats dealt with the aftermath of the storm. One boat (DRAGOA) had dragged his anchor across another boat's (HIATUS)'s chain, leaving the two boats' anchors tangled into knots that took divers several hours to clear. Boats all over the anchorage were re-anchoring as the daylight came.
One thing that we found out about the Linton anchorage that did not please us, was that many of the boats were untended for months at a time, just sitting here on the hook while their owners were elsewhere. That was the case with the big yellow catamaran that had slipped and almost hit us, as well as with several other boats that slipped their anchors. On VHF 72 we could hear the conversation as the regular "tenants" of the anchorage, some who had been here for years, tried to contact the owners of the offending boats, most of which were in Colon or out of Panama, to get keys and so on so that the boats could be re-anchored. It was a real mess.
That day, during a break in the rain, we re-anchored RHAPSODY. The only open spots left were almost out of the protection of the island, and our new anchorage was a bit rolly, but at least we were safe from other boats. It wasn't a fun place for us. Finally, after 6 nights in this trailer-park, bumper-car anchorage, we had had enough. The weather was looking to improve, and it was only another 40 nm to the San Blas Islands, so on Sunday, Nov 2, we finally said "the heck with it" and departed the Linton Anchorage bound for the San Blas Islands.