Getting Started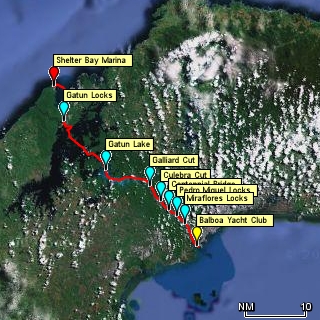 We were up at 6:00 am sharp, and by 6:30 we had showered, had a bite of breakfast, and done one last straighten up on the boat. At 6:30, I called the scheduler on VHF channel 12, and he said that the ACP advisor would be there at "oh seven zero zero" hours-- 7:00 am! I called Joe from AURA on the radio asked him to get here by 7am, and went up on deck. At about 6:45 Frank from WINDSONG arrived, then Joe arrived, and Ed Thurston followed at 7:15. At 7:25, an ACP boat arrived and the advisor stepped from it onto the deck of RHAPSODY. He introduced himself as Larry, and immediately recognized Frank, who had done transits with him before. As we were making everyone comfortable, getting juice or coffee for them, pointing out the spread of fruit and breakfast bars we had laid out, Ed Kirsch, our last line handler, arrived at 7:45, and the full crew for the transit was on board.
We spent about 30 minutes just chatting, the guys having breakfast and whatnot, as Larry called on the radio to confirm our transit and place in line. We started the motor, turned on the instruments, and made ready to depart. A few large ships went by, and about 8:20 Larry pointed out the ship that we were to follow into the locks, as it made its way lazily in from the large ship anchorage. I took that opportunity to make a few quick Satphone calls to notify my "screen grab" folks in the states that we would be going through the locks soon, and then, just before 8:30, Larry indicated that it was time for us to slip our mooring and make way.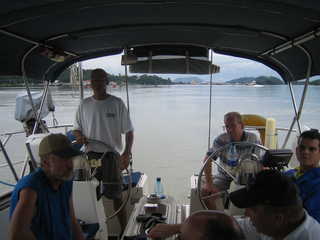 The weather was gray, and a fairly steady rain had started by that time, so everyone quickly donned foul weather gear, Frank and Joe went forward and slipped the lines, as I put RHAPSODY into gear and we got underway. We parallelled the large ship for a few hundred yards, allowing it to pass us, before we pulled into the channel behind it. Despite the rain, everyone was in a good mood, making jokes and talking animatedly about their previous experiences in the Canal and what we could hope for today. I had set out two movie cameras and a still camera and told everyone to feel free to use them to capture the experience, and soon the cameras were clicking away.
We passed under the Bridge of the Americas, went by the huge Panama City shipyard, following our large ship, and its associated tugs, by about 200 yards. About 200 yards behind us was another large ship and a couple more tugs. We were making 5-6 knots to keep us equidistant from the large ships. It was quite a feeling to be at the helm of RHAPSODY as she took her official place in line!