Jammin' at BYC with Frank, Joe, and Friends
Over the four weeks we were at the BYC, I was lucky to get to jam a number of times with a number of musicians.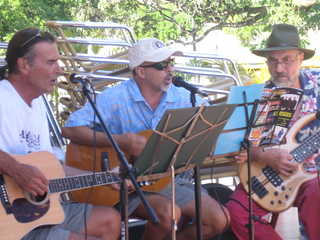 Soon after getting back to Panama City, I radioed Frank from WINDSONG and suggested that we go up the Yacht Club bar, setup, and play again. So the third day we were back, on Tuesday, I think, we did just that. I brought my small battery powered amp, a mic and mic-stand, Frank brought a small amp, and we had a good time entertaining a few of the cruisers who were hanging around the bar. I suggested to Frank that we attempt to make it a regular thing, perhaps every Thursday afternoon, and he agreed, and we began to advertise it on the morning VHF net.
Soon we hooked up with another player, an Aussie named Joe Blake, from the SV AURA. He's a very talented musician, playing guitar, ukulele, banjo, and piano. and so I invited him to RHAPSODY for a Tuesday afternoon jam. We spent all afternoon trading songs and discussing what we might do on Thursday.
Then on Thursday, the three of us got together and this time I also brought the bass and bass amp to the yacht club. We had two microphones and took turns as solo acts and combos playing for several hours. We also got a few walk-ons from other cruisers (Dennis from DREAMMAKER) who added to the merriment. Joe was great fun with his banjo and ukelele songs, and I backed him up on bass as he played some Jazz standards on guitar. The afternoon culminated with all three of us playing, me and Frank on guitars with Joe on bass, and the small, but dedicated crowd really seemed to like it.
Thereafter we made it a regular thing, and we played 2-3 more Thursday afternoon and early evening "gigs" at the BYC. The final jam included several additional musicians, including Ed Thurston, a really good keyboard player, and a guy named Phil from SV SISIUTL, who ripped up on the electric guitar.