Back in P.C. means Boat Chores and Paperwork!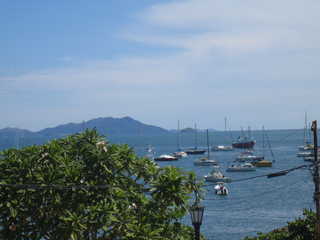 After our wonderful month+ in the Perlas Islands, we returned to Panama City where we spent 28 days on a mooring at the Balboa Yacht Club. There were many things we needed and wanted to do before we transited the Panama Canal to "the other side", and Panama City was likely to be the last chance to do many of these things.
Straightaway upon our arrival, we put up the Wi-Fi antenna and found that we had a good internet connection. We posted web pages, paid bills and did banking chores, and subscribed for another year to sailmail and buoyweather, two online services that we have used successfully, and often, on the trip so far. In the next few days, we made a number of trips ashore and into the city to do things like laundry, and to purchase spare parts and supplies for the boat, a seemingly never-ending process. We got a new, additional spare propeller for the outboard, as well as zincs, WD-40, Armour All, waterproofing spray, and so on. I was also able to find some external 2.5" hard disks for our laptop computer onto which I could back up our ever growing inventory of digital photographs and movie footage.
On our 2nd night back, our good friend Tahsin from DELFIN SOLO, already on the Caribe side, unexpectedly dropped by. We had heard him on the VHF radio and invited him to the boat. It turned out that he was held up in Panama City for the night due to some problems with Immigration, as he was attempting to leave Panama to fly back to his home in Turkey to visit his ailing mother. He was understandably upset, so we had a nice dinner and some drinks on the boat to relax him, and talked about all manner of things, particularly his experiences in transiting the Canal and visiting Bocas Del Toro, before he left for his early morning flight.
More days were spent doing the backups of the photos and capturing the 8-9 hours of video from DV tapes that we had collected so far. I spent an afternoon monkeying around with some of the instruments that were intermittent. By the end of the of the first week back in P.C., we had also re-upped our supply of DVDs and books, going to 4-5 bookstores and to the "street of thieves" in Old Town where we were able to buy recently released movies at bootleg prices.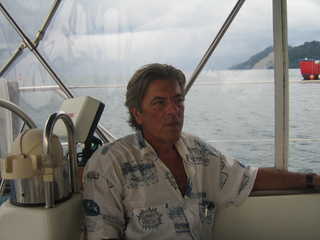 At the beginning of the second week, we put together an order for boat spares and supplies that could not be found in Panama City, and which would have to be shipped to us from the U.S.A. Specifically, we needed to get recharge kits for the inflatable life vests, spare macerators and rebuild kits for them. For this purpose, we contacted Arturo at Marine Warehouse. They run a shipping container down from the US each month, and we added our list of items to their next shipment.
More items of business that we took care of that week included ordering a bunch of stuff from ebay and having it shipped to the Marine Warehouse in Miami to be included on the boat to us in Panama. I also ordered a bunch of spare batteries for the digital camera as ours were getting old and not holding charges very well. Spurred on by my purchase of the 160GB hard disks, I also ordered two external 250G hard disks, so as to not only be able to back up the pictures and videos, but to have enough room to be able to begin cataloguing them and start production of the movie that I hope to make about our trip.
As we were coming up on the end of our first full year of cruising, there were also a number of other book-keeping tasks to get done. We contacted our insurance agent and started the process of getting another year's worth of insurance for the boat. We paid, online, property taxes for our house(s) in San Diego and my sister's place in Tucson. We also had a lingering task of proving that RHAPSODY did NOT owe property taxes in California (as we had left on October 29th the previous year). The San Diego County Tax assessors office required that I document where the boat had been, and so I spent the afternoon sending and receiving emails on the subject, till finally, after sending scans of our Mexican Temporary Import Permit, our Zarpes out of Mexico, El Salvador, Costa Rica, and into Panama, I was able to convince the Tax Assesor that we did not owe any property taxes to San Diego for RHAPSODY.