Over to Playa Caracole (Northwest Anchorage)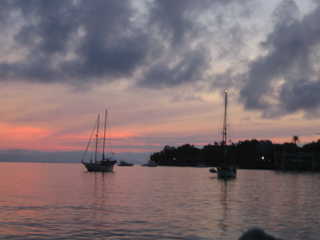 After 2 nights in the Palay Galeon anchorage, we were hanging around the boat on our third day there, when a cruiser from another boat came up in his dinghy and told us that someone had requested that we move. Specifically RHAPSODY was parked more or less directly in line with the airport runway on Contadora, and I guess our 55' mast was causing some concerns to the pilots that were taking off and landing there. So, we moved over to the other side of Contadora, the northwest corner, to the anchorage at Playa Caracole.
We thought at first that we would only stay one night at this new anchorage. That day we met, and went over and had cocktails with, Phil and Leslie, on CARINA, also joined by Jan and Wietska from SUWARROW BLUES. We all traded info and plans and talked for a few hours.
The next morning, we found that we were not ready to leave yet. Instead, we spent a good part of the morning talking about our plans. As we end our time in Pacific Panama, we have a lot to do to prepare to Transit the Canal, go back and Visit the States, and prepare for our time "on the other side", in the Caribbean. We've especially been hearing very good things about the San Blas Islands and were looking forward to going there, as well as Bocas Del Toro, and points beyond.
But then something happened, a spate of good weather, a walk in the town, whatever, and we clicked to the fact that we were already in a paradise, and all of a sudden it seemed like a bad idea to rush out of here. We didn't really have a lot we wanted to DO here. We just wanted to stay a little longer!
So, we ended up spending several more nights here in this northwest anchorage of Isla Contadora. As I'm writing this on Friday, Sept 12th, our plan is to finish these webpages, enjoy one more day in this lovely chain of islands, do the dinghy drill this afternoon, and then pull up anchor tomorrow morning and head back to Panama City.