Snorkeling at the Northeast Anchorage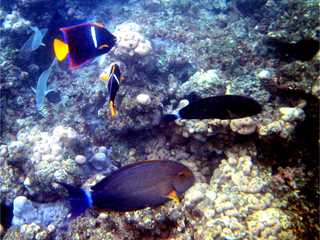 After bringing the dinghy back to RHAPSODY, we had a bite of lunch and decided to do some snorkeling around the boat. So we got the camera ready in its underwater case, donned our fins, masks, and snorkels, and jumped off the back of RHAPSODY into the waters of the anchorage.
Perhaps someday we will run into clearer, more pleasant waters, but for us this was as good as it has been. We were anchored in perhaps 20' and could clearly see the anchor chain on the bottom and fish swimming right under the boat. We lazily swam 100 yards or so over to the reef on the side of the baylet and were rewarded with lots of different habitats along the way. There were vast, sweeping fields of red coral, inhabited by lots of smaller fish like Sargeant Majors, Damselfish, Grunts and so on. Around the many large brain corals, we saw Parrotfish, Angelfish, Triggerfish, and tons more Grunts, as well as a bunch of other fish we can't even name.
We spent a good time just swimming around, suspended above the coral, watching the life below us. As we made our way back to RHAPSODY, a large (10 foot) stingray ... not a manta but a stingray ... swam by below us. Not wanting to get closer I didn't get a good picture, but it was sure something to see.