40.4 nm for 2 nights at Isla Pedro Gonzalez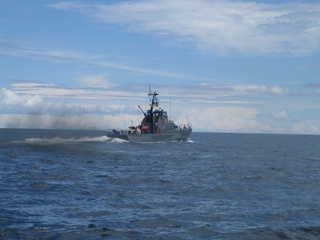 So, after 23 days in Panama City, we were really ready, finally, to go to the Perlas Islands. We didn't really have a plan about how we would spend our time here, only that we were sick of the big city and had 2 or 3 weeks to burn in the islands. After sitting down with the cruisers guides and charts, we decided on our first destination. We chose Isla Pedro Gonzalez because it had what appeared to be the easiest and safest anchorage to start with. There are many islands in the Archipelego de Las Perlas, and among them, many anchorages. Some of the anchorages are difficult to get to, being between and amongst many small islets and reefs. Pedro Gonzalez offered a wide bay with no obstructions, but with plenty of protection from the south and west, the prominent swell direction this time of year.
We left P.C. at about 6:30 a.m. with what seemed a nice sailing breeze, so we immediately put up the sails and turned down the motor. We motor-sailed out of our busy anchorage and set course for Gonzalez. After about an hour and a half of motor-sailing, the wind came on our nose, we put the headsail away, and continued with the main up, though doing no good. When the weather started turning a little grayer, we then put the main away. After a bit of lunch, we found ourselves trying to avoid the rain squalls we could see on the radar. As often happens, they developed right in front of us until we had no choice but to go through the neck and edges of one. As expected, there was a bit of rain and some thunder, but no lightning close to us, so after about 30 minutes we made our way out the other side of the squall into cloudy, but pleasant weather.
As the afternoon drew on, we passed the northernmost of the Perlas Islands, with Pedro Gonzalez 5-10 miles further on straight ahead of us. We could make out a 3 masted schooner, the one we had seen in Panama City, coming away from Gonzalez, apparently headed back to the mainland. From within the island group we made out what appeared to be a small naval vessel in the distance.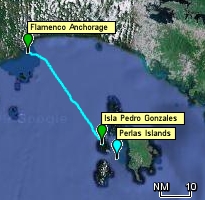 About a half hour out of Pedro Gonzalez,a Panama Navy Cutter leisurely cut across our stern and caught up to us on a parallel course, about 100 yards off our starboard beam. The captain of the vessel came on the radio and asked us a few questions about the boat and our destination. Then he told us to hold course. We figured they were going to board us as we saw about 6 men preparing a Zodiac on a winch. They had life vests on over uniforms and looked a little bored with the patrol duty out here. I figured they would board us just for the practice. A few minutes later, the captain came back on the radio and asked us a few more questions and told us to wait again. We went below and got our ships papers and passports ready to show them. Finally, after about 10 minutes of waiting the second time, the captain came back on the radio, quite politely thanked us for our cooperation, and told us to enjoy Pedro Gonzalez, adding that if we needed anything, to please call them, P-203/"4 de Noviembre". They were actually very nice.
All in all, it was not much of a delay as we had maintained our course at about 4 knots while talking with the Navy boat. As they were leaving, we got the camera and took a few pictures of the boat. As it turned and motored away from us, we turned our motor back up to cruising speed and a short time later we rounded the northern end of Isla Pedro Gonzales and made our way into the anchorage and dropped the hook at about 2:30-3:00 pm.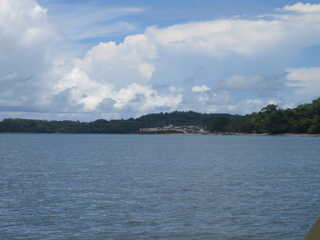 As soon as we had anchored, a couple of locals came from the village over to our boat in small pangas and offered us vegetables or fruit for sale. Since we had just provisioned up in P.C., we thanked them but purchased nothing, so they quickly left and lost interest in us. We chose the northernmost anchorage on the island because it was as far away as possible from the town and its "main" anchorage that the locals and shrimp boats use. Our anchorage was nice, not rolly at all, as the bay itself was also protected by several outlying islands.
Pedro Gonzales Village seemed like a lively little town: about any time of the day or evening you could hear music coming from it; but we, after being in the big city, were looking for more of a primitive experience, so we just kept to ourselves in the other half of the large bay. There were perhaps a dozen pangas, and at night 6 or 8 shrimpers parked off the town. A few shrimp boats anchored off one of the small islands at night and during the day the Navy patrol boat would sometimes pass outside the bay. Nonetheless, because the bay is so large, and we were the only cruisers here, we had plenty of privacy, if not a primitive island experience.
We spent two nights at Pedro Gonzalez, not really doing much at all. We didn't even put the dinghy down, but did see a whale and rays. During the full day we stayed there I went snorkeling, swimming from the boat to the shore 2-300 yards away and back. The visibility was not great and there was nothing particularly great about the snorkeling, but the swim was nice on the somewhat warm humid day.