22 nm from Isla Cebaco to an overnight at Ensenada Naranjo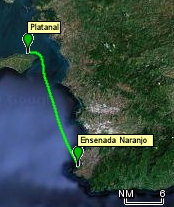 Apart from WAHOO, we're the only boat in our little cruising community that has a Pactor Modem and SSB that allows us to get email weather reports each day, So, since about Isla Secas, I'd been running a little morning SSB net, keeping in touch with the other boats and providing limited weather forecasts. Now, today, on July 21st, all six boats, RHAPSODY, WAHOO, KETCHING UP, DELFIN SOLO, SPIRIT, and PIPE DREAM were planning on buddy-boating together through the next few anchorages and around Punta Mala. We skippers had a series of strategy meetings over the radios and even gotten together on RHAPSODY one time to view & discuss the weather forecasts. We had collectively decided to do the passage in three parts.
First we would all move up to Ensenada Naranjo, just short of Punta Mariato. Then we would go half way around the peninsula and, if possible, stop for a night at Bahia Guanico or Ensenada Benao, whichever was more protected. Then from there everyone would round Punta Mala, with the plan being that some of the boats would go more directly to Panama City, perhaps stopping at Isla Otoque, while the other boats would go to Panama City by way of the Perlas Islands. The later route is supposed to be better for sailboats in that the direct route to Panama City is right into the winds and currents. It's an arguably better strategy for sailboats to go to the Perlas Islands first because it puts the winds and currents on your beam and should allow for more sailing.
So, from our respective anchorages, each boat set off for Ensenada Naranjo, rounding the east end of Isla Cebaco and heading south along the coast. WAHOO, being the motor boat, arrived there first and radioed back positive information about a good anchorage. RHAPSODY left Platanal around 9:30 am and was the second to arrive in Naranjo, just after noon, motoring the 22 nm in just over three hours. We dropped the hook and found that Naranjo was indeed a nice place to stop. It was quite green, nearly uninhabited except for a single house and a small herd of cattle, very picturesque. By the early afternoon all six boats had arrived and there was the usual flurry of dinghy runs between boats as kids, dogs, books, dvds, and provisions were exchanged between them. We all settled in early for the next day's passage.