Dinner with Max and Vittoria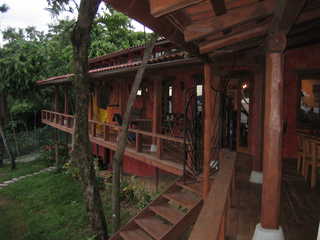 At this point in our narrative, the decision about what to do on the 4th of July began popping up. We had been hearing of several boats that we know, KETCHING UP, WAHOO, and DELFIN SOLO, on the SSB net each morning. They were at Isla Gamez, only about 10 miles away, as the crow flies, and in fact close enough so that we were able to raise them and talk to them on the VHF radio. The consensus was that they were planning a 4th of July celebration on Isla Gamez, on Friday, two days hence.
WAHOO, a motorboat with a 3' draft (and no mast) had pretty much gone thru the same logic process as us and had decided to come into Pedregal to check into the country on Tuesday. In fact, when they went in, they passed within 100' of RHAPSODY and we were able to talk to them for a bit. They said that not only were they going to check in and get fuel in Pedregal for themselves, they were going to fill up some jerry cans for DELFIN SOLO and look for FIREWORKS for the party. I asked them that if they found some would they please load up some extras for me? They said sure, and in subsequent conversations on the radio, we encouraged them to get many more, rather than less, fireworks.
In the meantime, on Wednesday, a small motor boat approached RHAPSODY and we could make out Vittoria, the owner of Cala Mia on board. Skippering the boat was her Dutch husband Max, whom we were introduced to. Since we were headed over to Bill and Ariana's for afternoon cocktails at that moment, they came over and joined the little party. The long and short of it is that they invited everyone over to their house on Thursday night for dinner.
So, Thursday night rolled around and we took the dinghy across the channel to Isla Brava where we hiked up the trail to Max and Vittoria's house. It was every bit as beautiful, if not more so, than the resort they had built, Cala Mia. Being very nature oriented, they had built their house using all teak wood from the island property they had purchased. The wood work was exquisite, and the attention to artistic detail that permeated the house made it feel a very warm, inviting, and an interesting place.
Max told us that they had originally moved to Panama from Costa Rica to set up a small Finca (ranch) to raise cows and make cheese, and that the resort (Cala Mia) had been an afterthought. In fact they were trying to sell the resort, because, in Max's words, they moved here to relax, not to run a business, and Cala Mia was becoming too successful and requiring too much of their attention.
Bill and Ariana joined us at Max and Vittoria's for dinner. Vittoria prepared a wonderful meal starting with a seaweed salad, a main course of Indian lentils, beef, and rice that was absolutely delicious (I had seconds!) and a dessert of ice cream and exotic after dinner liquors made from lemon and rum.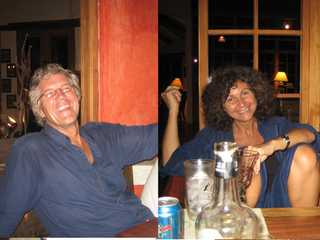 The conversation proceeded well into the evening. Bill and Ariana excused themselves and left at about 10:00 p.m. Max and Vittoria invited us to spend the night rather than taking the dinghy back in the rain to Rhapsody, which we accepted. The girls went to bed at about midnight, and Max and I stayed up smoking and drinking until at least 2:00 a.m.
When we awoke the next morning, it was like being in a tropical paradise resort. Mind you, we had not slept on solid land in over 3 months, so that alone was special. But their house, and Max and Vittoria's hospitality, made the overnight feel like a long, well deserved vacation. Vittoria made everyone a nice breakfast the next morning, and since we had made plans to go to Isla Gamez that day, we had to depart their fine home rather early. We were surprised how quickly we became close friends with Max and Vittoria. Perhaps it's just the kind of high quality people they are, but after one evening together we felt a very special bond with them. They told us to call them when we get to Panama City and perhaps they'll come visit there. We also invited them over to Isla Gamez for the fireworks show (later that night). Finally we had to go, so we hiked back down the trail from the house to their dock, got back in the dinghy and headed for RHAPSODY.
On the way back to the boat we stopped by Bill and Ariana's house one more time to thank them again for all of their hospitality and help thru our time on Isla Ventana, and to invite them also to the fireworks.
Once again, we had originally planned to only stay a few days at Isla Ventana and Boca Chica, but after meeting Bill and Ariana, with everything that happened, culminating with meeting Max and Vittoria, the time just flew by, and by the time we finally got our stuff together to leave, we were surprised to find that we had stayed there two weeks!
What a great place and what nice people!