Broken Genset Fanbelt and Lunch at Cala Mia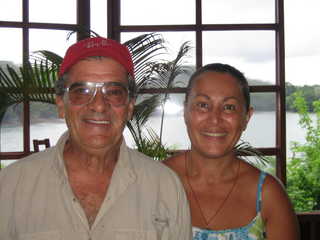 Bill was a never ending source of stories and we spent many hours on the veranda of Casa Ventana having cocktails and learning more about the island, region, and family. Ariana is also a wonderful person, and we learned that her family and Bill's have been intertwined for several generations here in Panama. His second wife, he married her recently after knowing her for all of her life. Ariana is a wonderful hostess too, and we were never short of snacks, hors-d'oeuvres, wine, beer, and lively diversions while we were visiting.
The time flew by and by the time we got back to the boat it was already getting dark. Before we left, they invited us to go with them to lunch, soon, at a nearby resort called Cala Mia.
The next morning, Sunday, as is the normal course of events, after checking the weather and SSB nets, we ran the generator to recharge the batteries on the boat. About a half hour after we started the generator, it got very hot and shut itself off. There was a burning smell and we could hear something boiling and dripping in the compartment. When I opened the generator compartment, there was coolant all over the place and it was obvious that the generator had boiled over. As it was very hot, I decided to wait several hours for it to cool down before exploring the problem any further.
In the meantime, we took the dinghy out for an exploration. About 2 miles over water brought us to the anchorage just off the fishing village of Boca Chica. We stopped and talked with a visiting tourist on one of the docks near what appeared to be a fancy hotel, but she was not able to provide us with much info. We took the dinghy further up the channel, scoping out the landing to the town, but decided to belay an actual shore visit to another time. We returned to Rhapsody later that afternoon and did various boat chores. I decided to attack the genset on Monday morning, so we had a quiet night on Rhapsody.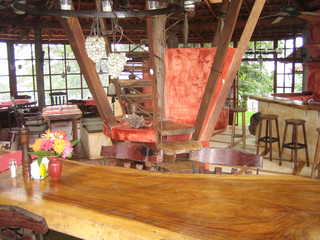 On Monday morning, very early, I opened the genset and determined, as I'd hoped, that the fan belt (which turns the fresh water pump) had broken. Much better that than the alternative (a broken water pump). However, when the fan belt broke, it wrapped itself tightly around the crankshaft and it took much pulling and tugging to get it unwound. There were pieces of fan belt shot all over the place so it was quite a mess. Finally, I got it cleaned up enough so that I was satisfied, and put a new fan belt on it. A few weeks before I had had to replace a relay. Now the fan belt needed replacing. Thank goodness we had gotten a "cruising spares" parts kit for the generator before we left San Diego and we had all the necessary parts! Since I had the generator open, and it was getting about time, I also changed the oil and oil filter in the generator while I was at it.
With that out of the way, around noon, via some shouting and a series of hand signals, Bill re-iterated his invitation to lunch at Cala Mia, which we accepted. By the time the resort's panga arrived to ferry us to the restaurant, with a man named Beto at the helm, it had started raining pretty steadily, so we were soaked by the time we got to the restaurant, about a mile away over water. However, it was so pretty there that we were in good spirits as we did a brief tour of this unique place.
The staff surrounded us with concern, getting us drinks right away and in general making us at home. We met Beto's wife, Dianna, who was to be our waitress. We also got to meet the owner, a nice Italian lady named Vittoria, who told us a little about how her and her husband had sailed here and built the resort over the last three years. Then we sat down for a lunch that can only be described as fabulous. Our mouths watered over the Ceviche, and the Corvina, as well as the Chicken Brochettes, were out of this world. And the place was so unique and beautiful that we felt like, well, like we were in paradise.
During the lunch we found out more about Bill's family as well. Not only do they (does he) own Isla Ventana, but he also owns another nearby well known island called Isla San Jose, that we had passed on our way here. His cousin owns another nearby island as well, and through the continuation of stories we learned that the family was extremely well connected in the region, having been one of the first Spanish families to arrive in Panama in the 1500's. Finally, after the wonderful meal and great conversation, it was time to return to Rhapsody. By now the rain had cleared up and we had a nice run back where Beto expertly brought the panga up and let us off.