28 nm from Isla Parida to Isla Ventana where we met Bill and Ariana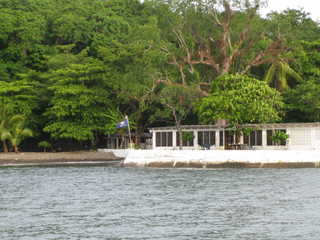 After 3 days in Ensenada Varadero, we decided it was time to leave the Isla Parida group and head over to the mainland. Our destination was a little island called Ventana, just off of Isla Brava, next to the little fishing village of Boca Chica. This gulf marks one of the entrances to Pedregal, a port of entry with a marina and fuel dock, and the port for David, the second largest city in Panama. We were not sure if we were going to try to take Rhapsody up the channel to Pedregal or not. It's a rather shallow, winding channel and we'd heard of boats that have gone aground multiple times trying to get to Pedregal, so if possible, we'd rather lay off outside. From the charts, Ventana looked to be well protected and an easy in-and-out should we decide to make it a short visit.
So, on Friday, June 20th, we got up easy and by 9:00 a.m. had removed and stowed the rain tarps, tied the dinghy in a towing position and were ready to weigh anchor for the short trip. As we were now at the southeastern side of this island, we decided to continue our way around clockwise, completing our circumnavigation of Isla Parida. We made our way out of Ensenada Varadero, rounded the islet of Pardidita, and put up the sails once we were safely off the reefs at the south side of Parida. We haven't been doing much pure sailing, so it felt good when a breeze came up and we were able to turn the motor off and feel Rhapsody moving again under the power of the wind.
As we rounded the island, the wind moved directly behind us so we went from a reach to a run and eventually decided to go wing-and-wing directly downwind. It wasn't really fast sailing, perhaps 4-5 knots in 8-10 knots of wind, but it was satisfying. At one point, I decided to crawl out into the dinghy which we were towing behind us and take pictures of Rhapsody with her sails in full bloom.
As we passed Isla San Jose we put away the sails and using charts, radar, and binoculars, picked out the narrow entrance between the reefs to Isla Ventana. Once we rounded the corner of the island, whatever wind-chop and sea swell there was diminished and we found ourselves in a calm anchorage in the lee of the little island. We turned a few circles looking for a good place to drop the hook, and finally settled on a spot about 100 yards from a white house built on a small beach on the island. We dropped the hook and put Rhapsody back into living mode, resetting the rain tarps, covering the instruments, entering info into the log, and so on.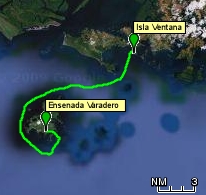 Since it had taken us nearly 5 hours to sail the 25 nm or so from Isla Parida, it was now nearly 3:00 in the afternoon, and a light afternoon rain had begun. We decided to belay any visits to shore until the next day, and spent the rest of that afternoon and evening on board Rhapsody, having cocktails, strumming the guitar, having dinner, and reading books. We watched and waved as the people onshore went for an afternoon swim and sat outside on their veranda, having cocktails as the sun set.
The next morning, after awaking and having our coffee, getting our daily weather reports over the shortwave and checking into the Panama Pacific Net on the SSB, we took the dinghy ashore to meet the folks there. With a wave, the man, Bill, directed us to a good landing spot on the beach and after we had tied the dinghy up to a nearby tree, walked with us to the house giving us an introduction.
They are Bill and Ariana. His actual name is Guillermo Tribaldos, which translates to William in English, hence the nickname Bill. In short order we learned that their family has owned Isla Ventana for many generations, going back to Bill's grandfather, who purchased the island in the 1800's. Bill told us the fascinating story of how his grandfather had started the family distillation business, making "Carta Vieja" rum, alcohol, wine, and as a side effect, vinegar. The family business was passed from generation to generation, and in due time Bill was born and raised in David, Panama.
A series of events led to Bill being educated in the United States, attending prepschools and college in New Jersey & Indiana, and becoming a U.S. citizen. He became an industrial engineer, acquiring a wealth of knowledge about the processes involved with the manufacturing and distillation of alcohol and vinegar. After a stint working with the Carter administration studying the feasibility of creating fuel alcohol from sugar cane was ended when Reagan came to office, he found himself starting a vinegar plant in Louisiana. It turns out that his company, Louisiana Speciality Products, in Abbeville, Louisiana, provides all of the vinegar used in the many special hot sauces produced in the region, including the McIlhenny Co's famous Tabasco brand sauce, as well as many others that you may be familiar with. If it's made in Louisiana, it's got his vinegar in it!