Summary of Part 3 of our trip - the West Coast of Central America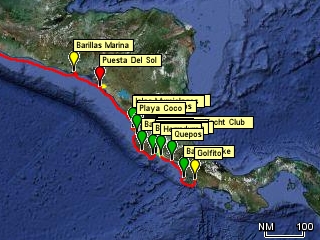 Our visit to Golfito, completes the fourth part of our journey which covered El Salvador, Nicaragua, and Costa Rica. It has been slightly over 2 months since we left Mexico and we have travelled just over 1200 nm down the coast of Western Central America.
Since we left Mexico we have spent 2 nights at sea, 31 nights on moorings, 28 nights at anchor, and have only spent 7 nights at an actual slip in a marina (Puesta Del Sol).
We had a wonderful time in these countries, at the many beautiful places we visited, and with the great friends we made along the way. Now it is time to move on to the fourth part of our trip: Pacific Panama.