Other Cruisers in Golfito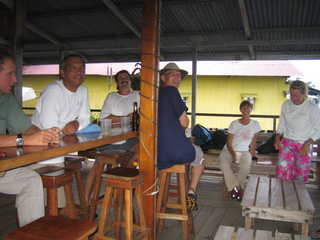 As well as KETCHIN UP, with Noel, Ashley, Griffin, Wills, and Cooper, there were several other cruisers in Golfito when we arrived.
We ran into Byron and Paula from ASTOR, which we've run into in several places on our trip, going back as far as La Cruz, Acapulco, and Huatulco, Mexico. We made friends with Mike, a single-hander on WALRUS, headed north; Ray, a former Volkswagen salesman, from his boat DRIVERS WANTED; Frank and Gisela from SHARED DREAMS, headed for Ecuador; Dave and Glyn on COLIBRI, who were a lovely pair of South Africans with a Panamanian flagged boat that was labelled "Holland", doing a boat delivery from Venezuela to San Francisco for a friend; and Tom and Carol on SURUURU from San Diego, who were going to leave their boat at Tierra y Mar, while they flew back to the U.S. for a visit.
On Friday, the day before we left, we were very busy, first getting checked out of Costa Rica, starting at about 8:30 am. This entailed taking a cab to the Port Captain's office by 9:00, only to be told that we needed to start first at the bank. So we walked over to the bank, about 1/2 mile away, where we waited about 30 minutes to buy an "exit tax stamp" for $47. From there we took a cab to Aduana (customs), in the duty free zone, where they told us that we had to go to Migracion (immigration) first. So, we caught a cab back about 1 mile to Migracion (about $1.50 for each cab ride) where, after I presented three copies of the crew list, and copies of our ships documentation and passports, a very nice lady cleared us out of the country in about 15 minutes. Then we took a cab back to Aduana where we waited the better part of an hour before getting any attention, after which, in about 20 minutes, they had done their part of presenting and taking forms, stamping things, and giving us copies. Finally, at 11:30 we took a cab back to the Port Captain's office again and he filled out our International Zarpe, which is the document we really need to enter the next country, Panama, which we will visit.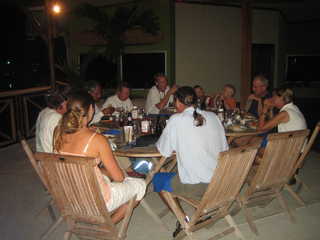 After getting cleared out of the country, we got back to RHAPSODY, had a quick bite of lunch, and towing the dinghy, went over to the fuel dock where we took on 65 gallons of diesel fuel at approximately $4.75/gallon. This, along with moving back to the marina and re-mooring took about an hour or so. As we were catching our breath from all this stuff, several boats we had been eagerly anticipating, MV JENNY with Dave and Mary, whom we met in Huatulco and Barillas, and MV WAHOO, with Mark and Lynn, who left San Diego on the Baja-Ha-Ha '07 with us, pulled into the bay and approached the marina. I took the dinghy out and helped WAHOO catch a mooring, and we all agreed to meet inshore for drinks later.
At about 5:00 pm, we took the dinghy into shore and met with everyone for beers and lively conversation. We sequestered Tim off to the side to thank him, pay our bill & beer tab, and donate to their local spay/neuter doggie clinic, thoroughly checking out of the marina for our early pre-dawn departure. After a few beers at the marina, the whole crowd of friends moved over to the FishHook for more drinks and a nice dinner. Culminating our busy day, at about 8:00 pm, we said our goodbyes to everyone, brought the dinghy back out to RHAPSODY, did the dinghy drill, putting DITTY up on deck, securing the motor and so on. I stayed up a few more hours, checking the weather and plotting a course to our next destination, Isla Parida, Panama.