Quepos to Bahia Drake - approx 60 nm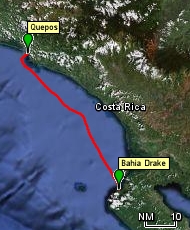 Since we had been making really good time, in radio conference with KETCHIN UP, we decided that we could probably get away with leaving at 4:00 am the next morning, rather than 3:00. So, on Wednesday we got up, were ready to go, and pulled up our anchor at 4:00 am and made our way out of Bahia Quepos headed for Bahia Drake.
So far our travel-in-the-morning strategy was working out well. On the way to Bahia Drake we didn't run into any rain or lightning, and the seas were calm and flat. About the only negative was the lack of a sailing wind, but we'd rather have no wind than rain and lightning, so we just motored our way happily down the coast.
When we pulled into the bay (named for Sir Francis Drake, who stopped here on one of his epic journeys) around 2:00 p.m., after making the 60 or so nm from Quepos, we were surprised by how pretty it was. There were lush tropical forests on all sides, and surprisingly, the anchorage was relatively calm, more comfortable than either Quepos or Herradura for us. If we had not been so concerned about getting to Golfito (KETCHING UP had a plane to catch), we might have even considered staying here a day or two and doing some exploring. However, after checking on the SSB, it looked like we had a good weather window for the next day's leg to Golfito and we wanted to take advantage of it to round Punta Llorona on the Osa Peninsula.