Herradura to Quepos - approx 45 nm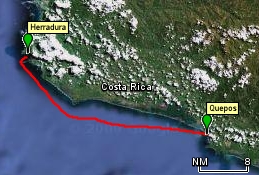 The 45 nm under motor from Herradura to Quepos was uneventful, with the exception of a single short rain shower and one or two clouds. The most exciting thing that happened was that we caught a few fish. Using a diving plastic lure, just a few minutes out of the bay, I hooked a 10 lb Crevalle Jack. We're not really fond of the meat on these fish, but we could make use of one of them in tacos or shish-kabobs. However, we caught two more in the next few hours which we threw back. We also caught one nice 8lb Sierra, which is really good eating, and so we kept him!
What with cleaning the fish and doing other boat chores (emptying the heads and making water), the time flew by and we soon found ourselves pulling into Bahia Quepos around 12:00 noon. They are in the process of building a marina in Quepos and so there was quite a bit of activity around the breakwater as we dropped anchor. Once again there were a few afternoon showers and some distant lightning. The anchorage was very exposed to the south swell that refracted around the point, so also once again, we spent a rolly night at anchor.
In Quepos, I was able to catch a bit of a WI-FI connection to check the weather. All signs were good for another early morning departure to get to Drake Bay!