Puntarenas to Bahia Herradura - approx 27 nm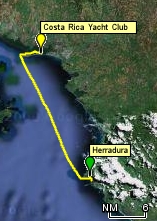 After the big Logjam on Thursday, we spent Friday cleaning up the boat and recuperating. Saturday was spent doing a little additional last minute provisioning, so on Sunday, after much checking of the weather on the internet, we finally decided to leave Puntarenas and the Costa Rica Yacht Club. Coincidentally, KETCHING UP also decided to leave on Sunday, so together we made a strategy for getting from Puntarenas down to Golfito. Our biggest concern was the rain and lightning that we might run into. This stretch of Costa Rica gets a lot of rain, like 200-300 inches a year, and we'ld be passing not from from Isla del Canos, an island that is hit by lightning more times per year than any other place in Central America!
Since it is now rainy season, and there are typically moonsoon rains nearly every afternoon, we decided that perhaps the best time to travel is between 3:00 am and 12:00 noon. By breaking the trip from Puntarenas to Golfito into four legs, 25, 45, 60, and 70 nm respectively, we should be able to avoid most of the lightning if we can travel in the wee hours of the morning and be safe at anchor by the afternoon.
So, at 12:00 noon on Sunday, May 29, at high tide, so as to have sufficent water under the keel, we slipped our mooring and made our way out into the channel with KETCHING UP. After rounding Puntarenas, our first stop was Bahia Herradura (labeled as Los Suenos on the map above), where we had stayed before for three nights. We motored at 6.5 knots or so for about 4 hours, making the 27 nm to the anchorage in Bahia Herradura by 4:30 or so. And, commensurate with our plan, pretty much as soon as we got the anchor down it started raining!
In Herradura, we not able to pick up much in the way of a WI-FI signal, but I was able to check the weather using Sailmail and the SSB. Our next stop was to be the bay at Quepos, but the weather forecast for the next day (Monday) for Quepos looked pretty nasty, calling for 10" or so of rain in the next 24 hours (by comparison, San Diego gets about 10" of rain in a year). So we decided to stay in Herradura for an additional day before heading south. This would also allow KETCHING UP to go into the Los Suenos Marina dock and top off their water tanks.
The next day we heard KETCHIN UP call the marina and ask for permission to come into the fuel dock and fill their water tanks. Even though KETCHING UP had bought nearly $500 worth of diesel fuel a week before, the people at Los Suenos wanted KU to pay $40 just to come in and use the fuel dock to get water! Once again, Los Suenos Resort and Marina showed itself to be greedy, grubby, and unfriendly to cruisers and KETCHIN UP just decided that they would go south with what water (approx 150 gallons) they had.
The captain and crew of RHAPSODY hereby urge cruisers to avoid the evil Los Suenos/(aka Pesadillas) Resort and Marina, and instead encourages all boaters to take advantage of the very reasonable prices and friendly staff at the Costa Rica Yacht Club in Puntarenas!
Once again, the anchorage in Bahia Herradura was somewhat rolly and we didn't really sleep all that well, especially after the flat calm of the Puntarenas channel. However, on Tuesday morning at 3:00 a.m., RHAPSODY and KETCHING UP pulled up anchor. It was a clear, nearly cloudless night, and with no moon we could see the stars for the first time in what seemed to be months!