Three nights at Islas Cedros - Jesusitas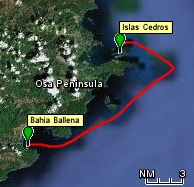 After two nights in Bahia Ballena, the increasing swell started to make it impossible to get a good nights sleep, so we decided to move to the much more protected Isla Cedros. After a quick 15 mile motor we found ourselves nestled in the anchorage between Isla Cedros and the tiny Isla Jesusitas. It was very flat (read: not rolly), and so we were quite comfortable there.
Our friends on GALLIVANT were about an hour ahead of us, so when we got there, they were already at anchor, along with another boat, ARGONAUTA 1. Within a short time we did the dinghy drill and started to check out our surroundings. Unfortunately most of the places to land a dinghy in this picturesque location appeared to be private property, and so we were unable to go ashore. However we did circumnavigate Isla Jesusitas and on our way back to RHAPSODY stopped by ARGONAUTA to introduce ourselves to Hugh and Heather.
They had just completed a 9 year circumnavigation and were about to check into Puntarenas to have their boat hauled and some work done on it. They crossed their line when they transited the Panama Canal a few weeks earlier.
We quickly warmed to Hugh and Heather and invited them over to our boat for cocktails. Bruce and Marianne joined us that evening, and once again Marianne made a really great dip ... just some cucumbers, a little of this and a little of that, but it was delicious! We all spent several hours, until well after the sun had set, chatting and talking away. Hugh particularly was a font of knowledge about conditions we would encounter transiting the canal and sailing up the east coast of Central America.
After two nights GALLIVANT followed ARGONAUTA over to Puntarenas and we had the anchorage to ourselves. Not being able to go to shore made it a somewhat boring place, so even though it was perfectly calm, we elected to go over to Isla Tortugas, which, although likely to be more rolly, was at least rumored to have some good snorkeling spots and a nice beach to visit.