66 nm in 10 hours from Playa Coco to one night in Bahia Carillo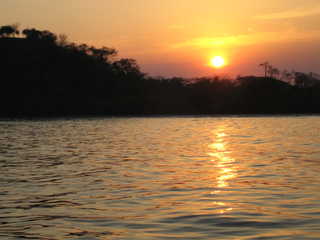 After returning from Bahia Huevos, we spent one more night in the anchorage at Playa Coco, where we had a nominal wi-fi internet connection the boat, doing route planning, checking the weather, and generally getting ready for our next legs south. The rainy season was almost upon us. The locals were taking bets on exactly which day it would arrive, so we were gearing up for a pretty dramatic change, especially given that we were heading to Southern Costa Rica.
Whereas Northern Costa Rica gets about 60 inches of rain a year, about the same as the Pacific Northwest, places that we in the U.S. consider very wet, there are places in Southern Costa Rica that get a whopping 300 inches of rain per year, almost all of it in the 6 months of rainy. season that start sometime around the middle of May. So in our minds we were preparing to deal with the deluge of rain and the accompanying lightning and thunder that we've heard so much about.
We decided to confront the beast head on, sort of. We debated staying in Coco and the North as long as possible to put off rainy season, but in the end we decided that the best thing to do might be to head south as the season unfolded so that we could get used to it and learn about it incrementally. Plus there was a good weather window heading south for a few more days before the forecast called for daily rain and lightning. So, after that one more night in Coco, we got up at about 7:00 am on May 7th, and headed south to round Punta Guiones.
Our next long term goal is the Gulf of Nicoya, about 120 miles south. Although there is safe anchorage only about 15 miles south of Coco in Bahia Potero, we decided to skip that and go a little further. About halfway to the Gulf of Nicoya there is an anchorage at a place called Bahia Carillo, an easy 66 nm daytrip from Coco, on a remarkably greener coast.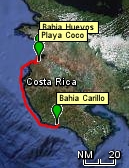 There was a nice little breeze blowing, and we could have sailed at perhaps 4-5 knots, but that would have put us into the anchorage after dark, so instead we decided to motor sail, averaging more than 7 knots, which got us there about 5:30 p.m. Along the way, of course, we put a line out, hoping to catch another Dorado. Nothing was biting at first, but about 10:00 am, I got a hit and brought in a 6-7 lb Skipjack. It had been a long time since we had eaten our last red tuna, perhaps 2 months, so we decided to keep the dark-meated fish and bbq him. However, I caught two more Skipjack on the leg, and threw both of them back as we are not really that fond of the meat.
When we pulled into the bay, we could tell it was pretty exposed to the mixed South and West Swell. We scoped out the first recommended anchorage on the east side of the bay, but were concerned because it was exposed to the west swell, about 1-2 ft at maybe 12-15 seconds, and surrounded by power boats and pangas on moorings. But after motoring 2 miles across the bay to the west side, we found that we got another 1-2 of swell, this time from the south. At least there were no other boats around, so as it was getting dark, we dropped the hook about 100 yards off of a pretty beach in 20-25' of water. To accommodate the swell, we anchored fore and aft, dropping a rear anchor behind the boat in addition to the main anchor in front, oriented so the boat would remain pointed into the swell rather than swinging about as the wind changed. It is much better to try to sleep when the boat is getting the swell from the front rather than from the side. It moves a few feet up and down which is way better than rolling 10-20 degrees all night long!
Apart from that, we don't really have a lot to say about Bahia Carillo. As we had beers and dinner, a few people were having a picnic on the beach. A pretty steady stream of cars moved up and down the road on the palm-lined strand. We marinated the skipjack and with some onions, tomatoes, and red peppers, and had some really good shish-kabobs for dinner that night. Our bellies full and satisfied, we watched a good movie("Venus")on the boat, then went to sleep, ok in the rolly anchorage. However, we were ready to get on our way first thing the next morning.