Bahia Huevos (and back to Coco)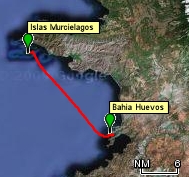 Another short jaunt of about 15 miles, this morning under motor as there wasn't much wind, brought us back to the mainland and a very pretty bay called Bahia Huevos. The bay is shaped like a "V" with the right hand leg of the V partially composed of two smallish islands. The Rains guide shows an anchorage between the outermost and 2nd island, and Charlie's charts shows one in the nook of the "V".
After scoping out the two anchorages recommended by Rains and Charlie, we didn't think either one was particularly nice. The one in the nook of the "V" was virtually breezeless and very hot in the humidity. The other recommended anchorage, between the two outermost little islands, was too exposed in our opinion. In the end, we decided to anchor between the first island and the mainland, in the lee of the first island across from a small well-kept looking little public beach.
Apparently, this was also the regular anchorage of the local panga fishermen. At about 6:00 p.m., as the sun was setting, and we were having our beers, two pangas came into the anchorage, close to RHAPSODY. We called one of them over and asked if they had any Langosta (Lobster) for sale or trade, and in fact they did. In short order we traded 5000 Colones (about $10) for two nice sized 1-2 lb lobsters. The Pangas left, going about 45 feet away and dropping their anchors, as we went down to clean and cook the lobster.

We cut the tails off the lobsters and boiled some water (even though it was already 90 degrees in the boat), and melted some butter. We got out some leftover cheese raviolis that we had the night before, and we sat down to chow. WHOA that was good! We and I were both remarking how great lobster tastes when it's that fresh. In fact, it was so good, that just as it got dark, we conjured up an ice cold six pack of beer and called one of the pangas over to give them a propina (a tip). I imagine that beer tasted nice and cold especially after a long hot day of fishing.
In any case, we spent the night in Bahia Huevos, then returned the next day to Playa del Coco to get ready to go further south to central Costa Rica.