Provisioning in Chinandega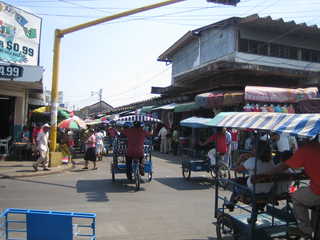 As well as getting our fuel tanks filled, we also took advantage of the marina-provided shuttle service to go into the nearby town of Chinandega to do some provisioning and exploring. As the town was about 45 minutes away over dirt roads and newly constructed highways, we got to see a bit of Nicaragua along the way. Yes, there is a lot of poverty here. Many people barely make a subsistence living, yet they are a very proud and dignified people.
In Chinandega proper, we were confronted with the hustle bustle of a busy, growing city of about 40,000 people. The mercado was packed with all kinds of goods, from fresh vegetables and other locally grown products, to imports of clothing, electronics, cell phones, and so on. We went to the "Super Selecto" supermarket and were able to stock up on all the necessities - beer, chips, and lunch meats :-)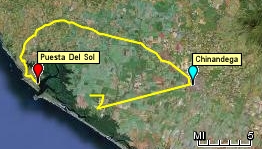 We also took the opportunity, while in Chinandega, to do a bit of a good turn. We stopped by a Libreria (book store) and bought a bunch of school supplies (a gross of notebooks and pencils and a dozen books and Spanish- English dictionaries, as well as a nice pencil sharpener to go with them) for the elementary school. It made us feel very good to get a full box of these supplies for the school and to think that they would help a bunch of very thankful kids get just a little bit further ahead in the world.

d

On our last day in Nicaragua, we checked out of the country with the immigrations and customs officials at virtually the same time as a couple of other boats we knew, DELFIN SOLO, with Tahsin and Rengin, SOUTHERN BELLE, with George, Melinda, and Joshua, and KETCHIN UP, with Noel, Ashley and their three sons, all checked in. We did get to spend a little time with them at dinner that night, but as we were leaving early the next morning, we felt kind of bad to have not had more overlap time with them.

In any case, our time in Nicaragua was wonderful and we look forward to returning here someday.