Six days and nights at Marina Puesta Del Sol in Nicaragua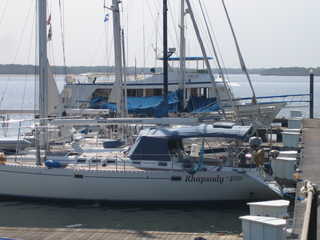 We spent six nights in Marina Puesta Del Sol on the Estero Aserradores (estuary) in Nicaragua. This full service marina, with floating slips, an easy-access fuel dock, 30 and 50 amp electrical power, potable water, clean showers with plenty of hot water, swimming pool, and onsite restaurant also features a very nice hotel for fly-in guests.
As we have headed further south, the ranks of cruisers is being winnowed down. When we arrived at the marina, there was only one other cruising couple here, Frank and Denise from CURSAIL, who sail six months a year and were in the process of leaving their boat here for the 6 months they return to the U.S. However, there were a number of hotel guests that made for lively cocktail and dinner conversation. We got to meet Dan and Marcus, a father-son pair from McMinnville, Oregon, who had flown down here to surf in the warm tropical waters. The surfing must be pretty good, because we also got to meet Foster and Dylan, who flew in from Hawaii to surf the outer beaches around Punta Aposentillo.
The staff were great, from Joel the dockmaster, to Sanir and Walter the waiter/bartenders,to the waitresses and chef, all of whom we got to spend some time with. One of our favorite new friends of the trip was Ramiro, a dockworker and boat hand who not only spent time with me fishing, showing me how to rig to catch the local pargo (snapper), but who also became very close to us due to his endearing heartfelt manner.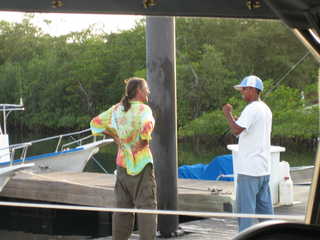 We also had a wonderful, interesting conversation with the owner, Roberto Membreno, a native born Nicaraguan who became a U.S. citizen, studied engineering after serving in the U.S. armed forces in Korea, and who returned to Nicaragua to build, among other things, this beautiful marina, as well as a local elementary school that helps over a hundred children. He also provides scholarships and actively helps his staff to get higher education. One of the waitresses is getting a degree in economics, and several other staff have gotten advanced degrees in computer sciences and engineering. Roberto gave us quite a perspective on Nicaraguan politics and U.S. - Nicaraguan relations, setting us straight on a few misconceptions we had.
The Nicaraguan people are among the friendliest in Central America, and any notion that they dislike Americans is unfounded. Far from it, they rather consider that the United States has helped them thru crisis, both natural and political, and consider us close allies and friends. We never felt uncomfortable or unsafe in Nicaragua and would highly recommend it, particularly Marina Puesta Del Sol, as a vacation destination.
One of the highlights of being there, for me, was that I got to play some tunes at the restaurant bar and received lots of praise from the workers and guests. In fact, Roberto has invited me to come back in December, along with a band, probably Theo and the Zydeco Patrol, to perform at their big annual fishing tournement.