DAY THREE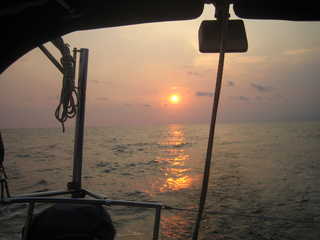 When I awoke on our third full day at sea, I took the morning report. More distant lightning had been seen, but nothing that really felt overly threatening. When the sun came up, the lightning all but disappeared, as the clouds lost their distinct shape, becoming an indistinct haze. Even at 7:00 a.m., you could feel the heat of the day begin to seep in to the boat.

>

As we had officially left Mexico now, we had a little ceremony on deck, lowering the Mexican flag and raising the Guatemalan flag as we made up our own corny version of the Guatemalan national anthem.

About 10:00 am, a breeze came up off our starboard beam and we put up the sails, but continued motoring at a reduced RPM, able to make better than 7 knots with the combination. We also picked up a favorable current which allowed us to further cut our RPMS and still make 7+ knots as the day progressed. We passed Puerto Quetzal about 5:00 p.m. and noted several large freighters arriving or departing from this busy port. Deciding to be somewhat decadent, after dinner I had a nice conversation with our friends Devin and Ruth on the Satphone.

Once again, that night, I took the watch at 8:30 p.m. We had also been taking informal naps during the day, so surprisingly, neither of us was very sleep deprived. Even after 2 solid days at sea, we both felt relatively chipper and had our wits about us. At about 10:30 p.m., we left Guatemalan waters and crossed over into Salvadorian waters. I gave up the watch one final time and retired at about 2:30 am.