Final Reflections of Oaxaca
On Sunday, we took the bus back to Huatulco. On the ride with us was Mike and Mary from CARPE VITA, with whom we compared notes and told stories about all the wonderful things all of us had seen.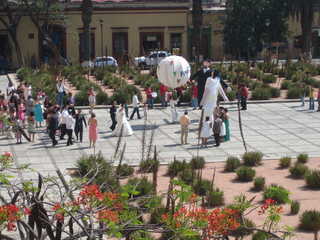 Perhaps the most impressive thing we all kept coming back to was the Zocalo, and the way it seemed to bring the community together unlike anything in the United States. Every evening we would see people from all age groups strolling/sitting around, children playing with balloons, young lovers walking hand in hand, new families with young children, and people celebrating with their elders. There were heard all kinds of music, too, from street musicians playing guitars, flutes, trombones, vibes, mariachis by the score, and chamber orchestras, to all the way up to the full symphonic wind ensemble that would play each night on the Victorian main bandstand in the center of the Zocalo.
We all agreed that Ciudad Oaxaca was indeed a special place in the world, and that anyone visiting Mexico and looking for that perfect combination of culture, romance, and adventure would do well to consider coming here. It is much nicer than the tourist towns of Mazatlan and Puerto Vallarta, and seemed to be much more deeply rooted that Acapulco. One way or the other, we had a great time there and were sad to leave Oaxaca, even though we were also glad to be getting back to Marina Chahue and our beloved boat, RHAPSODY, as it was the first time away from her in 6 months.
p.s. When we got back to the Marina, we talked to Mark and Lynn on WAHOO about their car ride to Oaxaca City. They had taken a rental car over the mountains on shorter Highway 175, and described it as very scary and uncomfortable. It still took them 7 hours, so perhaps the way we went was the best after all :-). As described by the bus ticket agent in Oaxaca, "there's the short way or the safe way"(!)